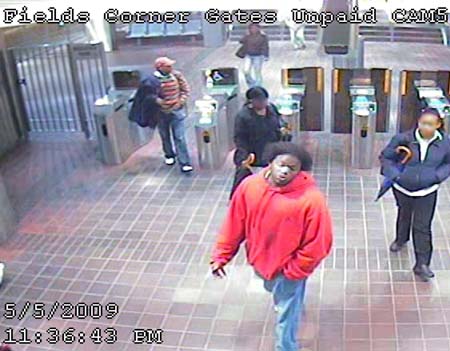 Person of interest: Boston Police think this man in red —shown at the Fields Corner T station on Tuesday — may be a suspect in a string of armed robberies. Police want to identify him and the woman holding an umbrella at right.Boston Police today released surveillance images of a suspect wanted in connection with armed robbery incidents in Boston and Brookline.
Police say that the suspect — shown here while at Fields Corner station on Tuesday — robbed a man at gunpoint in the Fenway neighborhood on April 27. The suspect then allegedly used the victim's stolen debit card at the CVS on Morrissey Boulevard and at the Fields Corner T stop. Police are also trying to identify the woman shown at right carrying the umbrella. She is believed to have accompanied the suspect.
Police say that the suspect is also believed to be connected to a recent armed robbery in Brookline.
Boston Police are looking for anyone who may recognize this person shown above to contact District D-4 detectives at (617) 343-4683 or the Brookline Police department, Detective Jen Canney at 617-730-2222. Individuals wishing to remain anonymous may do so by calling the CrimeStoppers Tip Line at 1-800-494-TIPS or texting 'TIP' to CRIME (27463). The Boston Police Department stringently protects the identity of those wishing to remain anonymous.