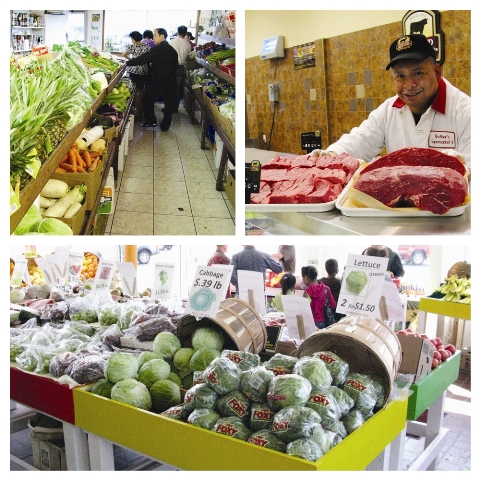 Dot Cornucopia: Top left: Fresh and affordable veggies at A.C. Farm Market, 1429 Dorchester Ave.; Top right: Ramon Perez, butcher at Brother's Supermarket, 776 Dudley St.; Bottom: A Haymarket fell at New Market Farm Stand, 1299 Massachusetts Ave.Many are pinching pennies by cooking at home. Lucky for us here in Dorchester, Boston's most diverse neighborhood, grocery shopping can be just as exciting as eating out, and the number of choices just keeps on growing.
At Fields Corner, the crossroads of Dorchester, the number of Vietnamese bakeries and grocery stores is growing apace with the region's Vietnamese population, who come from all over Greater Boston to shop. But one well-hidden spot stands out for its fresh produce and affordable prices—the A.C. Farm Market at 1429 Dorchester Ave.
In addition to Vietnamese veggie favorites like daikon, bok choy, fresh mint, and chayote, the A.C. stocks many varieties more recognizable to the American or Americanized eye, like eggplant, pineapple and cabbage. Walking in off the Ave. is akin to entering a green oasis. Seek out the youngest among the staff here for help if you don't speak Vietnamese, as English is not widely spoken here.
Several larger Vietnamese groceries also inhabit the area, like Lucky Supermarket, Truong Thinh II, and Phu Cuong Supermarket, all north of Fields Corner along Dot Ave. Phu Cuong, now small and somewhat chaotic inside at 1051 Dot Ave., is building a vast new store up the street at Auckland Street.
Also adding greenery to the neighborhood, in the middle of Edward Everett Square at Mass Ave. and Columbia Road, is the New Market Farm Stand. Sam Freni, his dad, and his grandfather have run a stand in Haymarket since the days when vendors hauled wheeled carts onto the site. Now Freni runs a distribution business that works with several vendors, and now stocks the New Market Farm Stand. Right now, most of the produce comes out of California, but as the weather warms Florida's harvest will start coming in and the sources will start moving up the coast.

dotcornucopia2: Top left: Kristine Hoag, owner of Savin Hill Supply, 99 Savin Hill Ave.; Top right: Jeanie Kim, fishnoger at Kim's Fish Market, 551 Washington St.; Bottom: Chese and history at Lambert's Rainbow Fruit Co., 777 Morrissey Blvd.
They don't go back as far as the Frenis in the business, but the Lamberts drove a truck into Dorchester and parked it out front of 777 Morrissey Blvd. back in 1954, and never left. In the 70s, Bill Lambert Sr. bought the building and over time, with the help of his family, turned the place into the sprawling grocery it is today, with a butcher shop, fish counter, deli and even gardening supplies. Lamberts might be Dorchester's go-to spot for gourmet items, such as its wide selection of cheese.
A much smaller gourmet destination has also sprung up in Savin Hill, though owner Kristine Hoag is aiming more for a rural New England general store kind of feel. She started with candy at her Savin Hill Supply store to appeal to her 11-year-old daughter, but has slowly been widening her selection to include a wide selection of condiments, dairy, Fornax bread, and organic grass-fed beef from River Rock Farms. Even more unique is a pile of whoopee pies, made locally in Newton. She said she thinks many people haven't poked their head in the door yet because the store's name doesn't quite indicate what it is inside.
"I had a whole bunch of other names, but all of them were taken up," she said. "I happen to like the name, but it wasn't my first choice."
Maybe she should have called it a spa, just to keep things clear.
Being a coastal town, Dorchester is also awash in fish markets. There's the Boston Fish Market in Fields Corner, the Adams Fish Market in Adams Village, and Kim's Fish Market in Codman Square.
"They come from all over town, Raynham and every place," said Jeanie Kim, part of the family that owns Kim's.
At Kim's the selection varies with the catch, but on a good day anything from porgies to shark might be had fresh. Oysters, lobster, crab and mussels are live in the tanks and if you're willing to go frozen, you can get the less mainstream octopus, squid or conch.
To round out a barbeque, you can find fresh meat over at Brother's Supermarket in Uphams Corner, at Lamberts, or in the back of the Dorchester Market bodega at 951 Dot Ave.
Brother's is a new addition to the grocery scene in Uphams, which, along with Fields Corner, lost an America's Food Basket outlet back in 2005. Incidentally, the Fields Corner locale became "Capitol's Food Basket" and still sports an entire aisle of rice in up to 50-pound bags.
Last but not least is a standby in the Irish community, Greenhill's Bakery in Adams Village, where you can get top quality soda bread, cakes, scones or a solid breakfast sandwich.
From time to time a clamor is raised in the neighborhood, calling on Trader Joe's German multi-billionaire owners to locate one of their uber-popular stores in Dorchester. Although it might not be easy to find quite the selection of frozen and pre-processed meals in Dorchester at the same price as you might in Brookline, you can find a plethora of local businessmen and women who aim to keep their neighbors well fed.