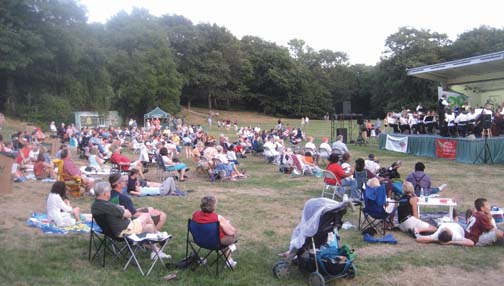 Classic park, classical music: The Boston Landmarks Orchestra returns to Dorchester Park for a free concert on Sunday, Aug. 9.You say the summer doldrums have got you down? Cheer up now: There's plenty of fun to be had in the neighborhoods this month and next, especially now that monsoon season seems to have passed. And as the late, great John Belushi might have said: "It don't cost nothing." Here's a sampler of free, outdoor events that will fill out your summer calendar. Tell 'em the Reporter sent you.
1- Watch a movie under the stars
• Neponset River Greenway festival's Thursday movie series opened last week at Pope John Paul II Park— and runs through the end of August. A great take for families who are comfortable spreading out a blanket, bringing a picnic dinner and watching (mostly) animated flicks with up to a few hundred friends and neighbors. The films typically begin at sunset on the Neponset Circle side of the park. You can log onto bostonnatural.org each week to get a clue about what's being screened each week. (This Thursday's clue: "In the Valley of Peace, Po the Panda finds himself chosen as the Dragon Warrior despite the fact that he is obese and a complete novice at martial arts.") The organizers— Boston Natural Areas Network— are also showing free films each Tuesday evening at the Martini Shell on Truman Parkway.
2- Hit the beach
Dot boasts three beaches in our backyard: Malibu, Savin Hill and Tenean. Two beach festivals are planned this summer. On Saturday, July 25, it's Tenean Beach Day 2009 from 12 noon - 5pm. The event will include free refreshments and entertainment. On Saturday, August 8, it's the Dorchester Beach Festival, from 11 a.m.- 4 p.m. at Savin Hill and Malibu.
3- Test your skills against the Sox
Mayor Thomas M. Menino and the Recreation Division of Boston Centers for Youth & Families invite Boston youth to meet players and coaches from the Boston Red Sox organization and compete in a baseball skills session at the annual Red Sox Talks/Fenway Challenge. The program comes to Dorchester's Garvey Park on Tuesday, August 11. Registration each day is at 9 a.m. followed by the Fenway Challenge, a skills competition in running, hitting and throwing for boys and girls ages 7-14. At the completion of the Fenway Challenge, members of the Red Sox organization will arrive and speak with the crowd. It's always a surprise; only the Red Sox know who will be present at each event but last year's Sox Talks included Manny Delcarmen, Javier Lopez, Coaching Staff and others.
The winners of each Fenway Challenge competition will be recognized at Fenway Park before a Red Sox game later this season. For more information or to register, please call Boston Centers for Youth & Families at 617-635-4920 x2145. Camps and summer programs are welcome to attend.
4- Classical music in a classic Olmsted park
The Boston Landmarks Orchestra will return to Dorchester Park on Sunday, August 9 to perform in what has become a neighborhood tradition. The free concert in the park's upper ballfield is set for 6 p.m. The orchestra, led by conductor Charles Ansbacher, will perform selections for Verdi, Tchaikovski and a special selection by Thomas Oboe Lee entitled "The Story of Frederick Law Olmsted."
 The orchestra will continue its free Wednesday night performances at the DCR Hatch Shell on the Esplanade beginning July 15. They also perform a special Earth Day concert on April 22 at 10:30 a.m. at the Hunnewell Visitor Center in Arnold Arboretum. For more details on the performance schedule, see www.landmarksorchestra.org
5- Go fly a kite
The Friends of Ronan Park host their second annual kite festival on Sunday, July 19 from 1-5pm. Bring your own kites! The first 25 children under the age of 10 will receive a free kite to decorate any way they wish. Some refreshments will be available.
Also, the Neponset River Greenway Festival will organize a big kite fest at Pope John Paul II Park on Saturday, August 22 starting at 10 a.m. Be wowed by expert stunt kite flyers, take in a choreographed kite ballet set to music, or gaze up at the gigantic and colorful show kites that will be in the air. A special demonstration by stunt kite flyers will be held on Thursday, August 20 before the Thursday night sunset movie, 6:30 p.m., Pope John Paul II Park. See bostonnatural.org for more info.
6- Eat a peach (or a plum, whatever)
Farmer's Markets have sprouted all over the neighborhood in recent years. The most recent to take root is the Ashmont/Peabody Square Market — held each Friday afternoon (3-7 p.m.) outside the ODWIN Learning Center, right across from the Carruth Building. Codman Square's market is held each Thursday, 1-6 p.m., in the parking lot of the Codman Square Health Center. See St. Mark's Area Main Streets for more info.
7- Canoe
Join Boston Natural Areas Network on Friday afternoon (July 17) at 5:30 for an interpretive tour of historic Lower Mills and the estuary. Excursion leaves from Milton Landing on Wharf Street— just over the river in Lower Mills. Another Lower Mills excursion is set for Aug. 14. A canoe trip on July 25 leaves from Neponset Landing on Hilltop Street. Enjoy an afternoon canoe trip upstream into the estuary, highlighting local history along the way. Paddling experience required. Registration required for all of these events. Go to bostonnatural.org to sign-up.
Another opportunity to take to the water comes during the August 8th Dorchester Beach Festival: The Boston Natural Areas Network and Mass. Department of Conservation and Recreation will offer walk-up registration for dozens of short canoe rides in the sheltered cove at Malibu Beach. In addition, the Dorchester Beach Festival offers activities for all ages from 11:00 a.m. to 4:00 p.m. - arts and crafts, live marine exhibits, field games, local area history, and more!
8- Garden
Bone up on your gardening skills: The Dorchester Historical Society will host a free pruning workshop on Saturday, July 18 at their property on Boston Street- the Clapp Family Farm. Starts at 10 a.m.
9- Watch a concert in your local park
Elma Lewis Playhouse in the Park series opened this week. There's a different show every Tuesday evening at 6 p.m. Bring a lawn chair and a picnic. Located by Valley Gates, midway along the main park road, look for signs directing you. For more information and directions call 617-442-4141 or www.franklinparkcoalition.org
Also: The Fat City Band comes to Hemenway Park on Adams Street on Thursday, August 6 at 7 p.m.
10- Just for Kids at Ryan Playground
Neponset River Greenway Festival's Especially for Children series at Mattapan's Ryan Playground is running every Thursday morning in July at at 10:30 a.m. This week Cornell "Sugarfoot" Coley teaches hand-drum rhythms and bursts of high energy African, Latin/Caribbean and Brazilian dance. Sponsored by Mattapan Community Development Corporation. Free. Contact 617-542-7696; info@bostonnatural.org.