A Suffolk Superior Court jury today convicted Quincy Butler and William Wood of murder for the 2004 death of a Dorchester woman whose Monsignor Lydon Way apartment they broke into in a drug-fueled home invasion, the Suffolk County District Attorney's office announced.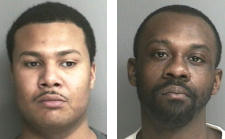 Butler (l) and Wood: Convicted of murderWilliam Wood was convicted on first-degree murder for the Feb. 13, 2004 murder of Betsy Tripp, which means he will go away for the rest of his life. Quincy Butler was found guilty of second-degree murder, which means he could be eligible for parole in 15 years. However, the DA's office says it will seek additional charges against the pair for other crimes the two are charged with.
In addition to the murder conviction, Butler was convicted of shooting out Tripp's companion's eye during the home invasion. Wood was found innocent on that charge.
Two of the pair's first trials ended with hung juries, when first one and then two jurors held out against conviction. A third trial, earlier this year, ended in a mistrial when the judge fell ill.
According to prosecutors, the horrific attack began when the pair robbed Tripp's companion, then forced him to drive to the home he shared with Tripp to get even more money.
Once there, they demanded Tripp's ATM card and password, then drove to a Codman Square bank machine, where they could only get $40. Prosecutors say the two returned to the apartment and Wood used a kitchen knife to slash Tripp's throat. When her companion tried to save her, Butler shot him in the head and arm.
What led to their downfall was bank surveillance footage showing Wood attempting to obtain money from Tripp's account.