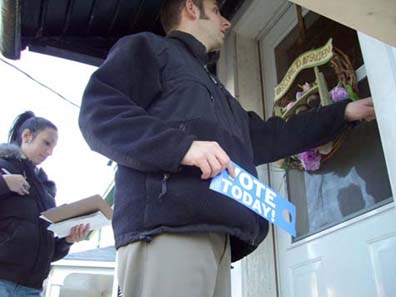 Door-knocking for Deval Patrick : Volunteers hit the streets in pairs to drive out votes in Ward 16Gov. Deval Patrick won a whopping 80 percent of the vote in Dorchester — and 95 percent of the vote in Mattapan— on Tuesday, as predominantly African-American precincts in Wards 14, 17, and 18 chalked up lopsided vote totals that helped cushion the governor's surprising statewide margin and earn him a second-term in the corner office.
In topping the ticket in every precinct in Dorchester and Mattapan, the governor's triumph was more convincing than his historic 2006 election, at least in this part of Boston.
MORE: Voter consensus: "Thank God it's over"

Chris Lovett on CivicBoston: More Voters, Lower Turnout
Precinct-by-precinct breakdown of the numbers in Dot, Mattapan
Patrick even bested his nearest rival, Charlie Baker, in several key Neponset precincts that were considered low-hanging fruit for the Republican insurgency. Four years ago, Patrick lost only one precinct in Dorchester: The Kenny School (16-9), a right-leaning polling spot that preferred the GOP's Kerry Healy. This time, Patrick inched past Baker by a 16-vote margin on his way to a clean sweep of Neponset precincts, including bellwether Florian Hall, which tipped towards the GOP in January's special election for US Senate. This time, the iconic firefighter's union hall went for Patrick by a clear margin: 817-490. Independent candidate Tim Cahill managed 276 votes between the two Florian precincts—his best showing of the day in the neighborhood.
Patrick was even more impressive in Savin Hill's 13-10— another bellwether where more-conservative voters have been known to flex their muscles in years past. The governor scored 60 percent of the vote in Savin Hill— winning a 549-259 showdown with Baker.
Gov. Deval Patrick: Huge margins in city neighborhoods helped cushion his statewide lead. Photo by Don WestPatrick's biggest single precinct in the entire Dorchester-Mattapan area was the Sarah Greenwood School on Glenway Street. The sometimes-sleepy precinct 2 in Ward 14 unleashed a torrent of voters this time — and 866 filled in the oval for Patrick-Murray. Baker was a infinitesimal second there with 22. Second-place honors went to the Woodrow Wilson School (17-4) on Codman Hill — where 762 votes were cast for the incumbent ticket, which earned 84 percent of the vote there.
Mattapan— once pooh-poohed as an afterthought in citywide calculations— once again flexed a prodigious voting muscle for Patrick and the Dems— awarding Patrick roughly 95 percent of their votes. At the Chittick School, a powerhouse double precinct on the Hyde Park line, Patrick posted a combined 1,669 votes — a number nearly identical to the totals he earned in his inaugural run in '06. The Groveland Senior Center — another double-precinct where Patrick ran up the score in blowout fashion— produced 1,438 ovals for the Dem ticket.
There was some early-evening angst that voter turnout in the city was not living up to expectations — a sentiment reinforced by Mayor Tom Menino, who gave voice to a late afternoon "concern" that turnout in some parts of the city was sluggish. Patrick's team underlined its own anxiety by dispatching the candidate to Copley Square for an unscheduled appearance that may have been driven in part by early reports that Baker voters were surging at the downtown library poll. If so, it was an aberration. (In fact, Patrick took the three Copley precincts in Ward 5 with between 57-58 percent of the vote.)
Longtime observers of voter turnout in communities of color noticed early on that Patrick's people were in fact getting their vote out where it mattered the most in the city's ring of diverse neighborhoods. By 6 p.m., city Democrats were well within striking distance of matching the participation levels of Patrick's 2006 victory. In Ward 17, for example, Patrick's people saw that they were within roughly 1,000 votes of the '06 figures with two hours left to go. Since the evening rush has historically brought a surge of after-work voters, the Democrats focused on a "blind pull"—a massive canvassing effort that had volunteers literally knocking on doors to urge people to hit the polls.
The Patrick-Murray tide lifted all Democratic boats. A coordinated campaign effort that included the organizations of other state and city elected officials along with key labor organizations fed a volunteer pool that swelled throughout the day — covering polls, shuttling voters and knocking doors.
Joyce Linehan, who coordinated the field operation for several Dorchester wards from the Dot for Deval office next to Ashmont Station, marveled at the accomplishment on Wednesday morning.
"It was a pretty astonishing operation," said Linehan. "We met a lot of people whom we'd never met before who showed up and wanted to be a part of it. There were dozens and dozens of Dorchester residents who went door to door yesterday to get the vote out and that's what won this election."
Linehan said that the organization is now even more robust than it was four years ago— and is already looking ahead to other opportunities to have an electoral impact.
"I'm most excited about governor's win, but I'm also feeling great about this coalition of Dorchester Democrats who are interested in electing progressive candidates," she said.