By Gintautas Dumcius, News Editor
October 7, 2010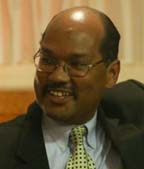 Councillor Charles Yancey: Presses BPL to keep branches openFour libraries, including the Boston Public Library system's Lower Mills branch, remain slated for closure next spring and both proponents and opponents are digging in for a battle over the Menino administration proposal.
Several city councillors and a number of library activists this week reiterated their opposition to the closures as administration officials asked for patience and said they were pushing ahead with meetings in each of the four communities – Lower Mills, South Boston, Brighton, and East Boston – affected by potential closures in each of those neighborhoods.
City Councillor Charles Yancey, who chaired a Post Audit Committee hearing into the library system's finances on Monday, said he was seeking to "lower the temperature" and "detoxify" what he called a "poisoned" atmosphere.
"We're going to do whatever we can to find resources" to keep the libraries open, he said after the hearing.
Yancey pointed to Boston Public Library President Amy Ryan's statement that $300,000 is needed to keep the libraries open through next June, the end of fiscal year 2011. Ryan said if she were to receive the money, she would then have to consult with the library system's board of trustees on any next steps.
"We're not talking about a huge amount of money," Yancey said.
At the three-hour hearing, City Council President Michael Ross, City Councillors At-Large Felix Arroyo and Ayanna Pressley, and District Councillor Mark Ciommo each said they remained concerned over the planned library closures.
Pressley said she believes a renewed community planning process, still in the works, should be a "process that is not an exercise or a matter of course, but one where the input of workers and families who use these libraries, with their recommendations, are heard, integrated, and honored in a meaningful way."
The Menino administration halted community meetings aimed at discussing how to use the buildings once the libraries are shut down after they encountered resistance from residents and scathing criticism from local lawmakers.
Ross reminded library officials that the City Council had passed a proposal to expand the library's board of trustees and hand them fundraising powers, which the administration had initially said it was going to sign. "That home rule petition was pretty much ignored by the administration and has not been signed by the mayor and may not be an ideal solution. So what is?" he asked.
Ryan said the library system has struggled with a drop in funding of $7 million over two years. "It's easy to criticize," she said, adding that the deficit provided "an opportunity for us to think through different changes." In their push to close branches, library officials have also touted a new "vision" for the library system, with fewer branches, in order to "modernize" it, along with economic factors.
Library officials have acknowledged that security at the Lower Mills branch has been cut back, the result, they said, of the branch having had fewer incidents than others. Responding to residents' complaints, Ryan said she would look into reports that Lower Mills and the other branches slated for closure were receiving fewer books and magazine subscriptions.
Supporters of the Lower Mills branch said they remain active and plan on meeting with lawmakers next week. "We're not just going to back down from this," said Sheila O'Flaherty, who is heading up the group supporting the branch.
At a separate meeting last week, a Menino administration official pleaded for patience from residents pushing to keep open the libraries. Justin Holmes, who handles constituent engagement for the mayor, said the administration had spent the summer in conversations with elected leaders over the proposal to close the four branch libraries. Library supporters met with Ryan and other library officials at the Copley Square branch last Thursday night.
Holmes, who has been tapped to help with Menino's outreach over the proposal, said the administration wants to share the "context" for the proposal and urge community members to "begin to think about which library services" they find the most valuable, as well as give thought to possible community "partnerships."
"But I have been patient," said Mary L. Linn, a supporter of the Lower Mills branch, adding that the mayor did not mention closing libraries when he was running for reelection last year. "I am running low."