By Pat Tarantino, Special to the Reporter
December 16, 2010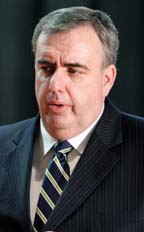 BPD Commissioner Ed Davis
Editor's Note: This article is part of a larger series of stories that was published in the Dec. 16, 2010 edition of the Dorchester Reporter.

Commissioner Davis says the increase in homicides this year reflects a "troubling trend" that the police department is struggling to combat but that the spike should not detract from the success that the city has had in reducing other kinds of crime including robbery and burglary both residential and commercial.
"The difference with homicides is that none of these [other] crimes are [watched] so closely by the public," Davis said.
Despite this year's 63 percent increase in homicides this year, Davis was firm in his belief that the department is doing everything in its power to keep Boston streets safe, pointing to an overall decrease in criminal activity since 2006, when he took over as commissioner.
Davis attributes the rise in murders to the unusually large number of multiple homicides that have taken place this year, such as the four people, including a two-year old boy, who were shot to death in Mattapan in September. A drug buy that turned violent appears to have been at the center of those murders and Davis blames a boom in the drug trade brought on by the November 2008 decriminalization of marijuana as a key factor in the increase in homicides this year. The change in the law was "upsetting the market" and created an environment where violent players stand to make more money, Davis said.
To combat these rising numbers, the police department has taken a hard stance on violent crime by referring cases to federal courts whenever possible, ensuring that convicted criminals face harsher sentences and are placed in federal prisons, out of state and away support networks that can make jail time less daunting.
Additionally, Davis said he has assigned squads of detectives to keep close tabs on gangs that have proven themselves to be violent, including the groups responsible for the deadly battle in a Jamaica Plains pizzeria that left three gang members dead and wounded one bystander in November.

By the numbers: Boston shootings since 2006Davis refused to name the gangs behind the fight, but said detectives have aggressively followed members of both groups, arresting them for any offense they witness no matter how small in order to instill a chilling effect on future criminal activity and pass the message that the police will not tolerate violence.
"The detectives designated to this case wake up with [gang members] every morning and put them to bed every night," Davis said. "They know we are all over them now."
Despite these efforts, Davis said that his primary goal in the coming months is to improve communication between officers and the community, encouraging residents to tip off police about criminal activity, rather than providing tacit approval to those who profit from breaking the law.
Davis also hopes that family members play a renewed role in ensuring those closest to them are not being drawn towards gang life and that by taking a stand at the first signs a youth may be in trouble,  families can pave a safe path for future generations.
"By working together with the police, we can stop it. We can stop the cycle of violence...If families – brothers, sisters, aunts and uncles, if they see this kind of behavior and say it has to stop, if the culture truly changes, we will see these numbers drop to almost nothing."