By Pat Tarantino and Bill Forry
November 12, 2010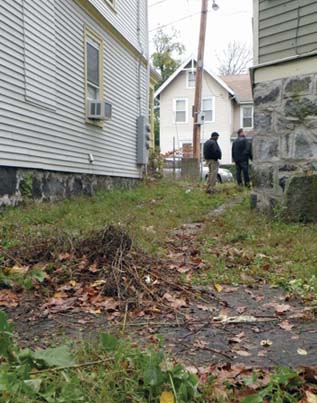 Mascot Street death investigation: The body of 19 year-old Nervin Charlot was found in this driveway at 63 Mascot St. He had apparently been shot two days before in an incident that also fatally wounded 17 year-old Emmanuel Louissaint. Photo by Pat Tarantino
A Dorchester teenager lay dead for more than two days in a Mascot Street driveway after police and neighbors failed to spot his body in the aftermath of a shooting that also took the life of a 17 year-old male found mortally wounded in front of a house less than 100 feet away.
Boston Police Commissioner Ed Davis says police believe that two teenagers murdered on Mascot Street this week were likely shot during the same incident early on Sunday morning. The body of one of the two male victims, 19 year-old Nervin Charlot, lay undetected for more than 48 hours until a neighbor finally spotted it on Tuesday morning, an oversight that Davis said will need to be probed.
"We're investigating that right now. At this point we can say that [the homicides] most likely occurred at the same time," Davis told the Reporter on Friday.
Asked why police who responded to the scene apparently overlooked the second victim at the scene, Davis said, "We will absolutely investigate that."
Charlot's body was found lying face-down in the driveway of 63 Mascot around 9 a.m. on Tuesday. His body was located at the end of a driveway less than 100 feet from where Boston Police had found 17 year-old Emmanuel Louissaint suffering from a single gunshot wound to the chest on Sunday just after 1 a.m. Louissaint was transported to Boston Medical Center where he was pronounced dead.
Charlot, a 19 year-old Dorchester resident, was also shot, according to a police report obtained by the Reporter on Friday. Earlier in the week, BPD officials declined to classify Charlot's death as a homicide. However, Charlot's mother told the Reporter in an interview on Wednesday that police informed her that he was shot to death. Charlot's death brings the number of murders in Boston so far this year to 66.
Neighbors on Mascot Street reported seeing 3 to 4 young men running on the street at the time of the shooting. Police were on the scene minutes later, having been alerted to the incident by the Shot Spotter system that picks up the distinctive sound of gunshots. Mascot Street resident Jimmy Adams, 70, says he personally did not hear the gunfire, but observed police officers on the scene looking into yards along the street, including his own.
Boston Police sources say that the officers who responded to the scene that night simply did not see Charlot in the driveway that night.
"They missed it," said one source.
Neighbors on the street apparently did not spot Charlot either, until a neighbor whose window looked directy onto the murder scene spotted his corpse on Tuesday morning.
Charlot's mother Marie Charlot said that her son had been missing since Saturday night. The family went to BPD headquarters on Monday morning to report him missing and were told to check for him at Boston Medical Center. On Tuesday, the family spoke to police and were told that he was — in fact— the man found dead in the Mascot Street driveway that morning.
The connection is all the more mysterious because of the passage of two full days between the Sunday shooting and the discovery of the second body. The spot where neighbors saw the body, which was found lying face-down in the dirt driveway of 63 Mascot, was clearly visible from the front sidewalk
Adams was one of several neighbors who inspected the second man's body on Tuesday around 9 a.m. He says that police were called to the scene by another neighbor who spotted the corpse, which was clad in a red cap, grey jacket and jeans, lying face down near the end of the driveway at 63 Mascot. To make things curiouser, Adams said that there was no blood evident on or around the body.
The unoccupied two-family house at that address has become a problem in recent years. It was foreclosed on in 2007 and has been without tenants since then, according to neighbors. Adams says the home has been empty since its owner died in a car accident and that it has recently become a magnet for teens to hang out and drink in the yard.
This marks the second time in two years in Area B-3 that a murder victim went undiscovered after police were called to an outdoor shooting scene.
On the night of May 13, 2009, police units responded to Wilcock Street for reports of shots fired. A search that night did not locate any victims, although police did stop a car filled with men suspected of firing the shots. Hours later, after sunrise, police were called back to the scene and discovered the body of 49-year-old Freddie Bing, who was shot multiple times and found slumped between two cars on the street. A 17-year-old from Dorchester, Damante Burrell, has been indicted for first-degree murder in that case.
Adams said that Mascot Street has been a relatively peaceful street for most of the 16 years he has lived there. In 2006, a teenager was shot to death on adjacent Ballou Street, but Adams says that — by and large— Mascot Street has not been known as a hot spot for violence. But the events of recent days have given him pause.
"This used to be a really nice street," said Adams. "I don't feel safe here anymore."
Emmanuel Louissaint, the 17-year-old murdered on Mascot Street on Sunday, was the 18th homicide victim of the year in Area B-3, the police district that covers this part of Dorchester along with Mattapan. Last year, during the same period, 7 people were killed in B-3.
Nervin Charlot is now the city of Boston's 66th victim of 2010.
Commissioner Davis has pointed to a rise in drug-related crime as an explanation for the major uptick in homicides this year.
"We've seen an increase in drug related crimes and we're working hard on mending our strategies towards addressing that issue," Davis said. "At the same time we have seen gang-related incidents decline."
Police are asking anyone with information to contact the Homicide Unit at 617-343-4470.
Pat Tarantino contributed to this article.
Contact the Reporter at newseditor@dotnews.com