By Pat Tarantino, Special to the Reporter and Gintautas Dumcius, News Editor
September 15, 2010
Carlos Henriquez addressing supporters at his campaign launch. Eric Esteves photo
(Updated 11:30 a.m. Thursday, Sept. 16)— When we last looked at the Fifth Suffolk state representative race, community activist Carlos Henriquez had won the unofficial ballot count by 41 votes and high school teacher and former Beacon Hill aide Barry Lawton sent a text message to editors saying, "It's not over."
On Thursday morning Lawton told the Reporter: "We're weighing all options right now." Those options include requesting a recount (which would require signature-gathering to commence) as well as a write-in candidacy in the general election.
"I want to have a few days from it," he said of the primary.
Pressed on whether he would wage a write-in campaign, Lawton said, "I think conditions will be different in the general election."
Should Lawton ask for a recount, here's how the process goes, according to the Secretary of State's website: He must gather signatures, 50 from each ward in the district, from registered voters who must have been enrolled in a party - in this case the Democratic Party - on or before the last day to register to vote in that primary.
The day to submit the signatures must be filed by Monday 5 p.m. A recount would then be scheduled within six days after Monday.
It was around 11 p.m. Tuesday when the city's Elections Department finally posted the final tally in the Fifth Suffolk District: Henriquez had triumphed over Lawton by 41 votes, according to the unofficial count of all 19 precincts.
Sources inside Lawton's campaign said on election night that he was weighing a decision on requesting a recount. Lawton did not return calls seeking comment on Wednesday, but sent a three-word text message to editors: "It's not over."
Both Democrats, hoping to succeed former state Rep. Marie St. Fleur, were making their third bid for public office. Henriquez, who had worked for former City Councillor At-Large Michael Flaherty, had unsuccessfully run twice before against City Councillor Chuck Turner and Lawton, a former Beacon Hill aide, was making a third attempt for the Fifth Suffolk seat.
The unofficial totals were 33.13 percent for Henriquez; 31.24 percent for Lawton; 18.43 percent for former state Rep. Althea Garrison; and 10.41 percent for perennial candidate Roy Owens. With no Republicans on the ballot, the victor of the Democratic primary is virtually guaranteed a win in the Nov. 2 general election.
About 2,030 votes were cast in the district, which includes parts of Dorchester and Roxbury and Henriquez topped the ticket with 719 votes.
In a last minute move on Monday, St. Fleur endorsed Henriquez, recording a robo-call for him. She had declined to weigh in on the race earlier in the year after she took a top governmental relations job with Mayor Thomas Menino's administration in June. Last week, Henriquez also snagged the endorsement of the popular Suffolk County Sheriff Andrea Cabral, a fellow Democrat.
Lawton had the backing of the Boston Teachers Union, the state AFL-CIO union, and the Boston firefighters' union Local 718, among other supporters.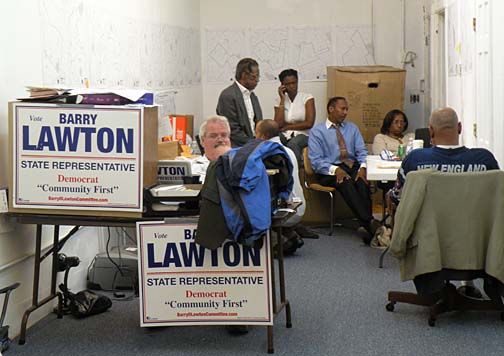 Lawton HQ on election night: The candidate, seated above center, monitored returns online. Photo by Pat Tarantino
As results were recorded on the city's website, see-sawing between Lawton and Henriquez, large platters of plantains and barbequed meat were being served at Roxbury's Merengue restaurant. A bottle of champagne on one table remained unopened.
"I'm tired, overwhelmed, but I'm feeling good," Henriquez said. "I think we felt pretty confident in the final days. We didn't have any change in strategy but there was definitely a pick-up in external energy," said Simone Miles, a Henriquez supporter. "It's played out pretty well."
At Lawton's party, supporters appeared equal parts nervous and excited, with buttons on their shirts and a bullhorn sitting by the sheet of paper they were using to keep track of precincts as numbers came in. Asked how he was feeling while walking an elderly volunteer to her car, Lawton said simply, "Tired."
Mark Stallworth, program director for Boston Praise Radio, a gospel station, met Lawton while he was door knocking, interviewed him on the air and became a supporter.
"Normally I stay out of politics, but after having Barry on my show a little less than a month ago I decided to support him," Stallworth said. "He stands for the community and he's part of the community. I like him because of his stance on youth violence. He's a teacher, that's his street right there," he added, pointing to Mt. Ida Rd. "It's been a roller coaster, one minute we're up, now we're down 13 votes."
In fact, by night's end, Lawton was short 41 votes and — although no one publicly declared victory in the Henriquez camp, the mood at Merengue was celebratory. Rounding out the field of four was former state Rep. Althea Garrison, who finished third with 400 votes or 18 percent. Bringing up the rear was Roy Owens, a perennial candidate, who tallied 226 votes— to finish with about 10 percent.
John Barros, a campaign advisor to Henriquez, said that Lawton did well in his home base of Meetinghouse Hill, but noted that Henriquez's recent runs for the district 7 city council seat likely helped boost his numbers in the rest of the House seat.
"[Carlos] had a strong base already established from the past campaigns and clear name recognition. He tried to work hard in the wards and precincts where he didn't have that same kind of recognition. Our numbers show he made headway and challenged Barry in his own backyard," Barros said.
The endorsements by St. Fleur and Suffolk County Sheriff Andrea Cabral were helpful, Barros said.
"We're excited that the sheriff took a stance as a political official and didn't wait for the results," Barros said.
Former Ward 15 Democratic Committee chairperson Judy Meredith, a health services lobbyist who remains active in the community, noted Lawton didn't get the Ward 15 endorsement, among others.
"But he worked very hard. I was very impressed," she said. "I thought he might pull it off. I hope his disappointment doesn't turn into bitterness. He still has a big role to play in the state Democratic Committee.
As for Henriquez, she said, "I'm hoping he will really grow in this spot."