By Gintautas Dumcius and Bill Forry, Reporter Editors
October 20, 2010
Mattahunt School and Community Center: City closed center last summer and a proposed partnership with Wheelock College has yet to begin.
(Editor's note: This article was updated online on Friday, Oct. 23 to reflect comments from Boys and Girls Club of Boston president Joshua Kraft.)
Eight months after the city of Boston began the process of closing some of the city's 46 community centers, the Menino administration is still laboring to finalize a deal with Wheelock College to take over the former Mattahunt Community Center in Mattapan, which ceased operations as a city-run center last summer. The move is drawing criticism from community members and one of Mattapan's city councillors, who are calling for more input and engagement with the broader community.
City officials and other supporters of the Wheelock deal say it will create a unique partnership that will expand programming at a time when the city is reeling from the effects of a weak economy and prepping for an even tighter budget next year. A deal can't be brokered "overnight," but an agreement will be announced in the coming weeks, they add.
"There's a great opportunity with Wheelock," said Daphne Griffin, executive director of the Boston Centers for Youth and Families, which oversees the city's community centers. "Not only are they well-respected…but they have a very strong institutional program background around out of school time and after school time."
A vice president from Wheelock College, Roy Schifilliti, discussed the college's plans at a monthly meeting of residents held at the Mattahunt School last Tuesday evening, according to attendees. Gareth Kinkead, who organizes the monthly Colorado Street Citizens Group meeting, said Schifilliti told the group that the college has committed to a four-year deal to run programs at the center. Schifilliti, who is the vice president for campus life and information services, told the group that the arrangement would begin in Jaunary 2011.
In a statement issued to the Reporter this week, Wheelock's vice president, Schifilliti said the college works with the city on a number of programs, projects and initiatives.
"It would be a privilege to partner with the City, the Mattahunt School Community and the Mattapan Community to engage and expand service for children and families," he said. "We look forward to making a positive contribution, finalizing an agreement and beginning the community planning process in the very near future."
Schifilliti's appearance last Tuesday was the first official news that Gareth Kinkead, his membership and the larger Mattapan community had heard about the Mattahunt in months. The last discussion about the future of the center came in the days after BCYF staffers were pulled out of the Mattahunt last summer, when the then-coordinator from BCYF asked to speak to the Colorado Street group.
"They didn't communicate with us as a group at all until they were in trouble," said Annie Kinkead, Gareth's wife. "As a community group, they should have come to us and given us more information so the neighborhood could have been more involved."
Kinkead said that Wheelock appears to be in a "fact-finding" mode as they prepare to take over the center next year. Such outreach, he said, is sorely needed and welcome.
"It's a necessary need in the neighborhoods," Mrs. Kinkead said. "The parents here depend on the after-school programs at the Mattahunt."
The former community center— attached to its namesake elementary school by an enclosed walkway and a courtyard— includes an indoor pool, gymnasium, classrooms and a multi-purpose room. Since September, it has been home to an after-school program run through the Boys and Girls Clubs of Boston.
The Hebron St. facility is presently called the Mattahunt Club at the Mattahunt School. About 76 children, most of them students in the elementary school, participate in a weekday afterschool program that runs from 1:30-5:30 p.m.
Donna Young, director of the Mattahunt Club, used to run the after-school program at the school and is now a paid employee of the Boys and Girls Club. Young says that while she and others are hopeful that Wheelock's involvement will be a good thing for the center's future, there remains great uncertainty about what will happen in the next few months. Young has been told very little about how or when the Wheelock transition will take place – or whether she and her staff will even be there after Christmas.
"I believe [Wheelock and the city] are not really sure yet what they want to do or what they're going to do," Young told the Reporter. "They said they'd allow us to utilize the space until December. After that I really don't know what's going to happen."
She added: "So you're telling me I can use this facility until December, but don't get used to it, don't get comfortable. But what are you going to tell my 70-something parents in December?"
The transition that followed the community center's shut-down last June was confusing for many parents and other neighborhood residents, according to Young. An outreach effort that she was told would engage residents in a conversation about what would follow the city's departure never happened, she said.
Young, who helped to run a full-day summer program at Franklin Field this past summer, said she was stunned to return to the Mattahunt in September and learn that the building went unused throughout the summer months. The center's pool, which city-funded custodians continue to maintain, continues to go unused this fall because there is no trained lifeguard to supervise the children.
"We've asked about utilizing this facility in the evening or maybe renting it. There's a color guard that would like to practice here," said Young. "Right now nobody can give me a concrete answer."
City Councillor Charles Yancey, who represents Dorchester and Mattapan, voiced similar complaints.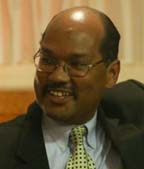 Councillor Charles Yancey"The problem is that [the transfer to Wheelock] was not initiated by anyone in the community, didn't have any community involvement," he said. "It was purely a decision made by the Menino administration....The community was totally bypassed."
Yancey also said Wheelock College has taken a look at the facility and wants the city to pay for "significant" changes to the physical plant.
Yancey, who as chair of the City Council's Post Audit and Oversight Committee plans to hold a hearing on the community centers in the next two weeks, said he will also be looking into whether there should have been a competitive bid process for use of the Mattahunt facility.
"I'm not sure how Wheelock was selected," he said.
The city in late spring announced that BCYF staff would be pulled out of eight community centers, with a lead partner to step in and take over operations of the facilities for nearly each one. Just one, the Stillman tennis bubble in Charlestown, has selected a lead partner through a request for proposal (RFP) process.
Griffin said Wheelock expressed interest in stepping into the partnership in the spring. The Boys and Girls Club, which Griffin was deeply involved with before taking her present job at BCYF, does not have the capacity to take over the Mattahunt permanently, city officials said.
"This is about building a partnership for the neighborhood," Griffin said, adding, "These are not things that are brokered overnight. We continue to be in a transition period."
City Councillor Rob Consalvo, who represents a third of Mattapan, said a partnership between Wheelock College is "exactly the kind of thing we need" to get through the tough fiscal times. "We need to be really thinking out of the box," he said.
Consalvo said Wheelock College will be meeting with neighborhood associations as soon as they finalize the agreement. "I think it's worth a shot," he said.
Update: In a letter sent to the Reporter on Friday (Oct. 22), Joshua Kraft — the president and CEO of the Boys and Girls Clubs of Boston— complained that the article above "leaves a misleading impression about the ongoing discussions between Boys & Girls Clubs of Boston, Wheelock College, and Boston Centers for Youth & Families (BCYF)."
Kraft writes: "We opened our Club at the Mattahunt Elementary School in 2001, and moved into the former BCYF community center this September when classroom space in the school became unavailable. We were able to continue serving the children in the community without interruption, and are confident that we will continue to keep our commitment to families that have come to rely on us.
"The challenging economic climate has forced many non-profit and government agencies to make difficult choices, and working together collaboratively is our best chance to meet the needs of our city's most vulnerable residents. BGCB has a long history of collaboration with the Mayor's Office, The Greater Boston Food Bank, the MFA, and the Boston Police Department, to name just a few of the nearly 200 organizations with which we partner to benefit nearly 14,000 children and teens across the city. We look forward to adding Wheelock College to that list and to combining our resources and expertise to ensure that Mattapan's young people can continue to find a safe haven filled with hope and opportunity at the Boys & Girls Club in their community."