By Reporter Staff
September 17, 2010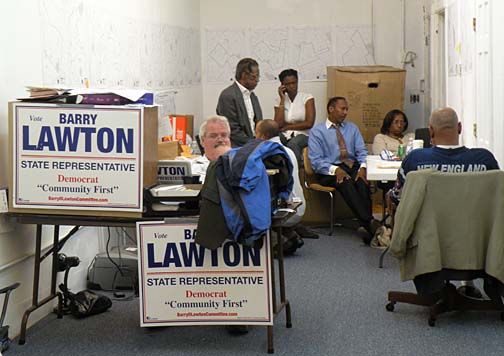 Lawton HQ on election night: A recount "not likely"
While he says he is still in an "evaluation phase", Barry Lawton tells the Reporter that he is not likely to seek a recount in the Fifth Suffolk state representative's district.
Lawton lost Tuesday's primary election to Carlos Henriquez by 41 votes.
Lawton says his own internal numbers show that he won the majority of precincts in the district, a fact backed up by unofficial results tabulated by the city's Election department. Lawton won 11 out of the 19 precincts in the district, with Henriquez topping the ballot in seven and Althea Garrison, a former state representative, winning two precincts. However, Henriquez was stronger throughout the district while Lawton posed strong numbers in his home ward (15), but posted weak numbers in Henriquez's base.
Lawton said that the work involved in mounting a recount request — he must collect 50 signatures from voters in each of the eight wards in the district and submit them to City Hall by Monday— is not a viable option for his campaign.
Lawton — who initially sounded a defiant tone about the results, telling reporters "It's not over"— sounded more resigned to the outcome today.
"I just think a lot of the votes I had just didn't come out," he said. "The primary date didn't really resonate with voters. A lot of focus has been on the November election and this primary was very far under the radar."