By Gintautas Dumcius, News Editor
August 12, 2010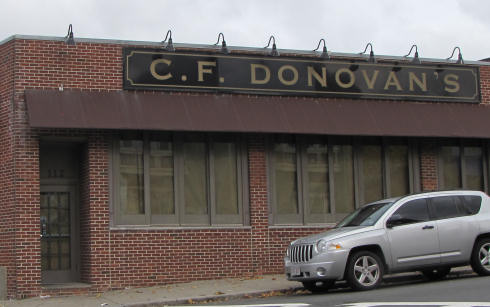 C.F. Donovan's: Sold at auction today for $875,000 to owner of McKenna's Cafe.The site of the former C. F. Donovan's restaurant was sold Thursday morning at a sidewalk auction to the owner of McKenna's, the café across the street, and a local financial planner.
The winning bid for the former restaurant, which longtime owner Arthur Donovan lost to foreclosure, was $875,000. The property comes with a liquor license, a tax lien from the state Department of Revenue, $6,297 in back taxes and outstanding water bills and sewer charges totaling $2,731.
"We're doing it for the neighborhood," said Ken Osherow, president of At Home Real Estate Group, which is located next to McKenna's café. Osherow, who is also planning to open an ice cream shop down the street, said the restaurant will have a "family" atmosphere.
"We saw an opportunity to do something good in our backyard," said Driscoll DoCanto, a financial adviser with Merrill Lynch who is working with Osherow and lives on Pearl St. in Uphams Corner.
Located directly across the street from the Savin Hill MBTA station, Donovan's was a longtime fixture of the neighborhood. Donovan filed for bankruptcy in November 2009, and the property went to Mt. Washington Bank.
As the jackhammers a few feet away quieted for the auction, a crowd of 30 people gathered to watch. While five people had signed up to participate and bid, a bidding war erupted between Osherow's group and Jim Paskell, an independent investor and developer who developed the eight condos across the street from the restaurant.
The crowd cheered and clapped after Osherow's group won the auction. Local activist Don Walsh, who was in the crowd watching the auction, came up to Osherow and shook his hand.
Eric Robinson, of RODE Architects, a local firm, called the auction a "huge win" for the neighborhood. He said he will be working with Osherow on the new restaurant.
"We're going to use all local people," Osherow said.
Osherow and DoCanto were represented by local attorney Charles Tevnan.
The restaurant, which also has a downstairs function room, will need some repairs, since it has mold and some water damage, according to the new owners. It had been struck by a one-alarm fire last summer, which caused minor smoke damage. But the restaurant reopened shortly afterwards, only to close permanently two months later.