By Mike Deehan, Special to the Reporter
September 22, 2010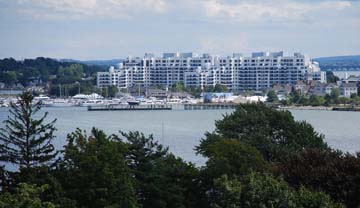 Marina Bay from Savin Hill: Nightclub there prompted noise complaintsThe Savin Hill neighborhood learned a harsh lesson in how sound travels over water earlier this month when noise from a nightclub located in Quincy's Marina Bay carried loudly into the ears of residents of the beachfront neighborhood.
"It was loud," said Rosemary Powers, an activist in Savin Hill affairs. "It was very, very loud. It was scary it was so loud."
Complaints about noise called into Boston and Quincy police departments caught the attention of the Quincy Licensing Board, which already had a hearing planned to discuss a stabbing that occurred at the Ocean Club earlier in the summer. A delegation of Dorchester's city and state officials appeared at the Tuesday afternoon hearing, including state Rep. Marty Walsh, who told the board that he could hear techno music while watching a football game in a home on Savin Hill Ave.
"This club, in my opinion ... has no regard for any people around there, whether it be the residents of Marina Bay or their neighbors across the bay," Walsh said.
Dorchester City Councillor Maureen Feeney and Lauren Smyth from Mayor Thomas Menino's Office of Neighborhood Services reiterated Walsh's complaints on behalf of residents and offered to work with Quincy authorities to solve the problem.
Powers said that on Sept. 12, she yelled upstairs to her daughter to turn down her music before realizing that the racket was coming from almost a mile away in Marina Bay.
"This isn't the first time this has happened," Powers said, adding that on clear nights over the last ten years, she has heard sound coming from Marina Bay. "On some nights, the noise is clearly audible in my home," she said. Powers reports that she could hear the club's disc jockeys talking and an "unbelievably loud" pounding bass sound emanating from the former WaterWorks club.
Ocean Club manager Timothy Collins, who said that he was away from the club on the night in question, conceded that sound from his establishment travels across the bay and said that the club has made efforts to protect Quincy neighborhoods from the noise, but not communities in other areas. He said that the Ocean Club had received few complaints this summer until the Sept. 12 end-of-the-season bash.
Collins said that the club will move to install a vinyl barrier along the bay side of the club to block as much sound as possible from reaching Dorchester. He said that no configuration used by the club has speakers point outward into the bay, but added that since he was not at the club on the night in question he cannot guarantee where the speakers were placed.
Quincy has recently adopted a new noise ordinance for the Marina Bay area, which will limit sound levels and put in place a system of oversight based on the number of complaints made by residents.
The ordinances have been in the works for some time, with Quincy officials gathering data and measurements on sound levels at Marina Bay establishments. They are set to be in place by next summer.
The new sound ordinance "isn't worth the paper it's printed on if we don't test it and use it" said Joseph Shea, Quincy's town clerk and chairman of the licensing board.
"Noise is such a quality of life issue," Feeney said at the hearing. She said that the owners of the Ocean Club are well known restaurant owners in Boston and are not new to dealing with community complaints.
Both Feeney and Walsh allowed that many of the club's patrons are undoubtedly from Dorchester and other parts of Boston.
Ownership of the club changed hands last year when the former WaterWorks club, previously known as The Tent, became The Ocean Club.
Feeney said that the change in management has not helped the situation, asserting that under previous owners, the club was "much louder and much crazier" on a regular basis but that ownership responded promptly to complaints. With the current ownership, though, Feeney told the board, "many felt that management was disrespectful to them."
Quincy Police Chief Paul Keenan recommended that before the start of next summer's season at Marina Bay, Quincy officials, club management, and residents, sit down for a "stakeholders' meeting" to discuss safety and noise concerns at the club.
Walsh said that one option for Boston officials would be to request their own meeting with Ocean Club management at the beginning of next summer. An additional option, said Walsh, would be an appeal to the state licensing board to take further action against the club.