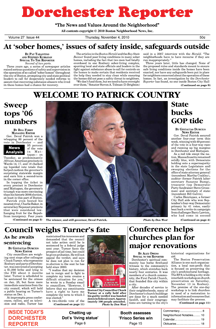 Patrick's re-electionWho had a worse year – politically and locally – than former City Councillor Chuck Turner? District Seven's City Council representative was convicted of accepting a $1,000 bribe and then booted from the 13-member council after 10 years of sometimes controversial service.
EDITORIAL: The top ten local stories of 2010
A member of the Green-Rainbow Party, Turner was often his own worst enemy, taking the stand when his defense attorneys begged him not to and then repeatedly saying he could not recall a fateful meeting with an FBI informant.
And who had a better year than the truck driver from Wrentham? "I'm Scott Brown. I live in Wrentham. I drive a truck." Those words drew laughter from the reporters covering the UMass-Boston debate between the Republican state senator and Massachusetts Attorney General Martha Coakley. Political observers – and the media – widely predicted Coakley would take the seat long held by the late U.S. Sen. Edward Kennedy and help President Obama pass health care reform. But more than a week later, after numerous verbal gaffes by Coakley and a near-flawless campaign by Brown, he won with 52 percent of the vote, with Coakley receiving 47 percent.
Gov. Deval Patrick comes in a close second behind Brown. The Milton Democrat rarely fell behind in the polls as he ran for re-election, and he lucked into two opponents who split the anti-incumbent vote and had difficulties finding their footing on the campaign trail.
Last year, many observers were bearish about his re-election prospects. Patrick had signed a tax increase to help balance the budget, which his first campaign ad pointed out, to the consternation of his advisers, who had asked the governor to distance himself from liberals. "He all but said, 'I raised taxes.' Jesus Christ," an adviser, described as "still-traumatized," told the left-leaning New Republic magazine. "He thought the way to do it was to be true to what he ran on [in 2006]." And it appears to have worked.
From the U.S. Senate election in January to the tossing of Councillor Turner, here is a look back at the notable happenings – and then some – in between:
JANUARY
Brown becomes the first Massachusetts Republican sent to national Upper Chamber since 1972. Mayor Thomas Menino takes the oath of office, kicking off his fifth term, and through an education reform bill the governor had signed into law, picks up tools he called crucial to increasing the power of superintendents and bringing "in-district" charter schools to Boston.
Marie St FleurFEBRUARY
State Rep. Marie St. Fleur tells Ward 15 Democrats she's retiring. "The mood on Beacon Hill is part of it," said Alix Cantave, a St. Fleur adviser. "I think it's taken a toll on her. It's not a very healthy place right now." St. Fleur, a Dorchester Democrat, was first elected in 1999. State Rep. Willie Mae Allen, a Mattapan Democrat, also tells the Reporter she isn't running for a third term. Both retirements set off spirited races to replace them.
MARCH
State Rep. Brian Wallace, a South Boston Democrat who also represented parts of Uphams Corner and Harbor Point, makes it three local lawmakers opting not to run another term. At state Sen. Jack Hart's annual St. Patrick's Day breakfast, pols offered up good-natured (and some occasionally sharp) jabs at one another, with Lt. Gov. Timothy Murray seeking to tie Baker to the costly Big Dig project with a song labeling him "Pothole Charlie." Lower Mills residents begin to mobilize against the proposed closure of their branch library. President Obama signs into law a historic health care reform bill, which is partly based on the Massachusetts model.
APRIL
Menino unveils his $2.5 billion budget for 2011, which calls for closures of branch libraries and community centers. "In the context we face, with fewer resources and more obligations to meet, the choices this year are tough ones," he tells councillors. "As elected officials, we don't have the option to muddle through or delay until another day." Menino announces that Rep. St. Fleur would be joining his administration as chief of advocacy and strategic investment.
Forry fights BPL closingsMAY
Chatter begins over whether Michael Flaherty, who made an unsuccessful run for mayor in 2009, is weighing an attempt to return to the City Council. State lawmakers say they'll cut funding for the Boston Public Library if branches are closed. Residents clashes with library officials at a meeting at Carney Hospital. State Rep. Linda Dorcena Forry, who is married to Reporter managing editor Bill Forry, tells library officials, "Tonight you need to go back to the drawing board." And the City Council sets off a firestorm after it passes a resolution calling for the divestment of city funds from Arizona, which had enacted a law immigrant advocates derided as draconian.
JUNE
The proposed closings of the libraries are delayed for nine months, as the City Council voted 11-2 to pass the mayor's fiscal 2011 budget, now revised downward to $2.3 billion. "We are keeping the libraries open for another nine months to engage with the public and possibly reconvene over this issue," Menino says. Former state Sen. Dianne Wilkerson, a Roxbury Democrat, pleads guilty in federal court to eight counts of attempted extortion. The city and the firefighters union, based in Dorchester, reach a compromise with the help of pressure from the City Council. At the Democratic State Convention in Worcester, City Councillor At-Large Stephen Murphy barely makes it onto September's primary ballot, where he will face businessman and Democratic fundraiser Steve Grossman. In the state auditor race, all three Democrats running make the ballot: Worcester Sheriff Guy Glodis, former Labor and Workforce Development Secretary Suzanne Bump, and newcomer Mike Lake.
JULY
At the Freedom House, Gov. Patrick signs legislation aimed at overhauling a criminal records system and reducing crime by easing access to jobs for former criminals. City Hall observers cross West Roxbury Councillor John Tobin's name off the lengthy list of potential mayoral contenders in 2013 after he announces he is taking a top job at Northeastern University. A bill that authorizes three casinos and two slot parlors appears to die after the governor, who said he would only agree to one slot parlor, declines to sign the legislation. Rep. Forry gives birth to her third child, a baby girl, Madeline Casey Forry.
Sen. Chang-DiazAUGUST
In the dog days of summer, the race in the Second Suffolk Senate District heats up. Roxbury's Hassan Williams, running against incumbent state Sen. Sonia Chang-Diaz, appeared to accuse her of "plagiarism," saying she did not credit former Sen. Wilkerson when she filed similar bills. Chang-Diaz said she and Wilkerson shared views on a number of issues and asserted she was up front about authorship. Williams would later appear evasive when questioned by a group of Jamaica Plain liberals about his stance on gay marriage and abortion.
Carlos HenriquezSEPTEMBER
The field of politicians angling for seats at the State House table is winnowed in Democratic and Republican primaries. Carlos Henriquez, who had run twice against Councillor Turner, emerges as the victor in the Fifth Suffolk House District, though challenger Barry Lawton declines to concede and launches a write-in campaign. Financial adviser Russell Holmes wins in the Sixth Suffolk District. Nick Collins, a former State House aide, wins the primary in the Fourth Suffolk District. State Sen. Chang-Diaz cruises past Williams, picking up 70 percent of the vote. Statewide, Bump wins the Democratic primary for state auditor, setting up a battle with Republican Mary Connaughton in November. Grossman easily wins the Democratic primary for treasurer and faces Republican state Rep. Karyn Polito. In the Ninth Congressional District, U.S. Rep. Stephen Lynch fends off a challenge from his left, with Mac D'Alessandro grabbing 35 percent of the vote. Jockeying begins for the City Council presidency.
OCTOBER
District 7 Councilor Turner is found guilty of corruption charges by a unanimous jury. Hours after his conviction, names of potential candidates hoping to replace him on the City Council began to circulate. Boston Public Library officials reverse course on branch closures, with the library system's president, Amy Ryan, saying she would "strongly support" keeping all of Boston's library branches if funding is made available.
NOVEMBER
Incumbents roll to victory, including Gov. Patrick, who grabbed 48 percent of the vote. Baker received 42 percent, and Tim Cahill picked up 8 percent. Green candidate Stein garnered 1 percent. Two of Dorchester and Mattapan's newest House lawmakers – Henriquez and Holmes – did not face Republican opponents, while Collins bested Republican Patrick Brennan. Grossman won the race for treasurer and Bump triumphed in a tight race for auditor. Coakley, after her U.S. Senate defeat, handily beat her Republican challenger, Jim McKenna with 63 percent of the vote. Voters also rejected two of three ballot questions: They backed the question repealing the sales tax on alcohol by a 57-48 vote. Question 2, which sought to repeal a controversial and complex law that supporters say helps produce suburban affordable housing, lost, 58-42. Voters rejected Question 3, which would have rolled back the state sales tax from 6.25 percent from 3 percent, by a nearly identical margin. On the City Council, Stephen Murphy appears to have the votes to get the presidency, a ceremonial post. The action-packed month wraps up with the release of an independent probe confirming a Boston Globe report that alleged rampant patronage at the state Probation Department.
DECEMBER
City Councillor At-Large Felix Arroyo takes one of the hardest votes of the year, saying "yes" to expelling his former boss and mentor, Councillor Turner. City Councillor At-Large Ayanna Pressley joins him, as do nine others. Dorchester Councillor Charles Yancey is the lone "no" vote. Marty Walsh tells the Reporter he's taking a top union job as secretary-treasurer and general agent of the Boston Building Trades Council and keeping his state representative job.
Material from State House News Service was used in this report.