By Sean Smith, Special to the Reporter
September 29, 2011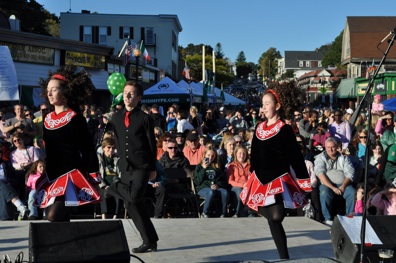 Dancers performed at the 2010 Irish Heritage Festival in Adams Corner.: This year's festival starts Sunday at 12 noon.
Call it a block party with an open invitation to the rest of the world. The third annual Irish Heritage Festival will take place on Sun., Oct. 9, in Adams Corner, celebrating Irish music, dance, and culture with a focus that is unabashedly local.
While the festival headliners include Na Fianna, a hot new ballad-style group from Ireland, along with well-traveled, ever-popular singers Robbie O'Connell and Aoife Clancy (both New England residents), most of the other performers are regulars in the Greater Boston Irish music scene, such as The Joshua Tree, Erin's Melody, The Gobshites, Michael O'Leary & Steve Levy, and the Kieran Jordan Dancers.
The "home-grown," family-friendly element is key, say organizers: For this festival, which is free of charge, location isn't a matter of convenience or necessity, it's part of the attraction.
"We like to say that the Heritage Festival is an opportunity to come back to good old 'Dot,' " explains festival committee member Patrick McDonough. "There are many people for whom Dorchester was an important part of their lives. Maybe they grew up here, or perhaps they had a family member or ancestor who lived here. So here's a great day to come and renew old friendships, see the neighborhood, relive some memories, and have some fine entertainment in the bargain. When you go out and around on the day of the festival, you'll see babies in strollers, teenagers, young adults, middle-agers, and senior citizens. There's something for all generations."
At the same time, he adds, "it's a chance for people who aren't familiar with Dorchester to see what a wonderful place it is. Does Dorchester have its troubles? Sure, and so does every other place in the world. But there are plenty of aspects of Dorchester you don't know about unless you see for yourself -- and what you'll see is a community full of good, hard-working people who care about their neighborhood."
It's the support of that community, notably its businesses, that makes the festival happen, organizers say. "I have learned quite a bit from running this event — it takes a lot more money than people would imagine," says festival committee co-chair Sean Weir. "The local businesses, the neighbors, the festival volunteers, they all work very hard. But it is worth it when you see all the ages of people come through, from two months to 90 years old.
"Without the community support, it just wouldn't be possible," says McDonough. "It costs roughly $40,000 to put the festival on -- a good portion of that goes to the police detail and the sound. At the end of last year, we had literally $5 left in the till. But it's all worked. The vendors at the festival have been so successful. Even in this economy, people are supporting local businesses."
The festival, which last year drew about 5,000, has proved at least as popular with performers, McDonough says. "It's really caught fire. The more they heard about the festival, the more they wanted to perform at it, and we got more and more inquiries. It's gotten to the point where we practically have to turn people away."
As a result, festivalgoers can enjoy an array of Irish musical styles, from hard-core trad to contemporary sounds. Na Fianna – second-place finishers in "The All-Ireland Talent Show," Ireland's version of "American Idol," McDonough notes – are in the hearty, up-tempo ballad-group mold of the Clancy Brothers and The Dubliners. The Heritage Festival is one of the stops on what will be their first American tour.
O'Connell and Clancy, whether performing individually or as a duo, have cultivated a following throughout, and beyond, the US. O'Connell has written a multitude of songs that have become part of the modern Irish song canon, including "The Islander's Lament," Keg of Brandy," "The Man from Connemara" and "You're Not Irish." Clancy, a former member of Cherish the Ladies, is known for her lively stage presence as well as her top-drawer vocals, whether singing a contemporary song or one from the Irish tradition her family (including her late father, Bobby Clancy, of the Clancy Brothers) has done so much to preserve. She and O'Connell – a nephew of the Clancy Brothers, with whom he has often appeared – frequently perform as "The Clancy Legacy," sharing generations of Clancy music and memories.
Other performers appearing at the festival include:
• The Joshua Tree, Boston's own premier U2 tribute band
• Erin's Melody with Margaret Dalton, presenting popular Irish tunes and songs
• Mairin Ui Cheide, powerful, expressive singer in Irish and English
• Michael O'Leary, traditional-style singer, with accompanist Steve Levy
• Irish rockers The Gobshites
• Devri, with a musical range that extends beyond Irish to classic and modern rock, country and folk
• The Tom Lanigan Band, traditional and contemporary Irish music
• The Kieran Jordan Dancers, featuring new, innovative dance rooted in Irish tradition
• The Boston-based Hanafin-Cooley branch of Comhaltas Ceoltoiri Eireann
• Local Irish dance schools including Maureen Green O'Leary Dance School, Clifden Academy of Dance, Forbes School of Dance, The Harney Academy and O'Shea-Chaplain School of Dance
The complete line-up is at irishheritagefestival.com.
McDonough notes that the festival is mindful of offering family-oriented entertainment. "When we started out, we didn't want to have a carnival, but we've recognized the need for more activities aimed at kids."