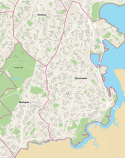 BRA map: Click for larger (4mb) ver.The Boston Redevelopment Authority — or BRA— says that there are 91,982 people living in Dorchester, based on newly-released data collected for the 2010 census.
If that were a correct count of Dorchester's residents, it would mean that the population of Boston's largest neighborhood dropped by nearly 1,000 souls over the last decade.
But, the city's planning department appears to have it wrong.
The BRA may have shorted Dorchester's population by tens of thousands of people, according to calculations done by the Reporter.
Our neighborhood is actually home to more than 134,000 people by our estimate. That's an increase of some 1.4 percent over the last count in 2000.
What's the cause of this discrepancy? Over the last few decades, the BRA has changed the boundaries of the original town of Dorchester — which was annexed into the city of Boston in 1870. The result: whole sections of Boston that were indisputably part of Dorchester for centuries have been shifted into either Roxbury or Mattapan by city planners. And when the city plugs in raw data from the census department, several large swaths that should be assigned to Dorchester are instead being assigned to Roxbury or Mattapan.
BRA Census Tract map: Click here to download. (1.1MB)On Wednesday, the BRA provided the Reporter with a map showing the census tracts the agency used to compile Dorchester's figures. It confirmed our theory that seven census tracts that are fully or partially in Dorchester were allocated for either Roxbury or Mattapan.
Historically a postal district (02126) within Dorchester — Mattapan has been enlarged to the point that it includes Franklin Park and Columbia Road on the BRA's latest map of the city's neighborhoods. Including this territory helps make Mattapan the sixth largest neighborhood in the city, with an BRA head count of 36,480, according to the BRA.
But that statistic looks to be flawed, because it presumes that large sections of Dorchester in the 02124 zip code are actually part of Mattapan, including Franklin Park, Franklin Field and parts of Four Corners. Even a stretch of Talbot Ave. — including the Dorchester Boys and Girls Club(!)— is included within the Mattapan map.
The encroachment appears to have increased since the last census maps in 2000: The BRA map released on Tuesday shows tracts of land between Columbia Road and Talbot Avenue within Mattapan's boundaries.
Mattapan civic leaders, who for years have been arguing that the northern boundary of their neighborhood is actually Morton Street, are puzzled by the latest incarnation of the BRA's map of their neighborhood, which has shot further north than ever before.
"They do not reflect the true boundaries of this community of Mattapan," says Barbara Crichlow, a resident of West Selden Street. Crichlow says that when the BRA launched an economic development committee for Mattapan about five years ago, residents insisted that Morton Street be used as the operative border— and it was.
Lillie Searcy, director of the Mattapan Family Service Center, says she remembers fighting against an expanded northern boundary in meetings held more than ten years ago to re-zone the neighborhood.
"One on hand, if you have 36,000 people in Mattapan, we can make the case that they need to give us more services and quality of life programs. But they are counting Franklin Field, other parts of Dorchester as Mattapan and they are not Mattapan," says Searcy. "We go by 02126. We thought we had 26,000 people."
Dr. Azzie Young, president and CEO of the Mattapan Community Health Center, says that the issue over the proper boundary has "caused great furor" in the past.
"The major issue with the expanded map is that it could seriously skew data for Mattapan," says Dr. Young, particularly with regards to health issues and crime.
Bill Walczak, president of Dorchester's Carney Hospital, says that confusion caused by the shifting boundaries presented a quandary for him when he ran the Codman Square Health Center. It makes it more difficult for educators and health professionals to track trends over decades when the borders keep changing, says Walczak.
"In 2000, the 'border' of Mattapan was put about 7 blocks down Norfolk Street, such that Codman Square Health Center re-defined itself as serving Dorchester and Mattapan as its primary service area," Walczak told the Reporter.  "These decisions create very weird situations. One of the purposes of the census is to be able to make accurate comparisons. This creates 'apples and oranges' problems for us."
The situation is much the same along the northwestern border — where blocks and blocks of homes that carry Dorchester addresses in the 02121 and 02125 zip codes have been counted as Roxbury. (Case in point: My parent-in-laws' home on Howard Ave.— listed on the city's Assessing Department site as a Dorchester property— is shown as Roxbury on the BRA map.)
"It's just really annoying to know that neighborhoods can have their names changed by the bureaucracy inside the BRA," said Walczak. "My assumption is that they decided Mattapan was too small so that they needed more for planning purposes. There's an argument to be made for that. But Boston is known for its neighborhoods and to just change names because of convenience and numbers is just not the right thing to do."