By Gintautas Dumcius, News Editor and Pat Tarantino, Reporter Staff
November 9, 2011
Councillor-elect: Frank Baker and his wife Today Baker posed for a photo with supporters outside Florian Hall shortly after the polls closed on Tuesday, Nov. 8. Photo by Pat Tarantino
Frank Baker, the 43-year-old former city employee from Savin Hill, triumphed by a 12 percent margin on Tuesday night, winning a closely fought slugfest for Dorchester's open District 3 City Council seat.
Baker won the match-up with 5,262 votes to John O'Toole's 4,120 votes, or 56 percent to 44 percent, according to unofficial results from the city elections department. O'Toole, the former head of the Cedar Grove Civic Association, called to concede around 8:30 p.m., a half hour after the polls closed across the city.
Baker won 20 of 29 precincts and three of the four wards represented in District 3. Baker's strongest showing was in his home-base of Savin Hill, where he chalked up 84 percent of the vote in the bellwether precinct 13-10, the Cristo Rey School. But he also made major inroads into the more vote-heavy Ward 16, winning half of the ward's 12 precincts and finishing just 130 votes behind O'Toole in his home base. Baker was strongest in Neponset, where he notched victories at the Murphy School and the Neponset Ave. firehouse.
At Florian Hall, a jubilant Baker, who frequently touted his large family on the campaign trail, entered a packed room to the song "A Family Affair." "We want good schools, safe and clean streets," Baker told the crowd. "That's why I ran and what I want to give to you."
Down the street, a somber crowd filed into the McKeon Post. "I thought we ran a Class A campaign," O'Toole said to supporters. "I'm eternally grateful," he added. "I wish it was different."
With no mayoral race on the ballot, voter turnout was light throughout the day, though higher than political observers originally predicted. Citywide, 63,000 voters, or 18 percent, found their way to the polls.
"I've already spoken with John and we're going to have to reach out to people," Baker said after his victory speech. "I'm going to put myself out there and make myself available to everyone, regardless of what side they were on."
The District 3 race, a result of City Councillor Maureen Feeney deciding to forgo another term, captured the intense attention of City Hall and Beacon Hill: Mayor Thomas Menino's political operation and Feeney backed O'Toole, a realtor and former plumber, while state Rep. Marty Walsh and several of his State House colleagues pressed the case for Baker.
Baker and O'Toole emerged from a seven-person preliminary in September and spent the next six weeks fundraising, racking up endorsements and dumping mailers on neighbors' porches.
Some Baker supporters, including Walsh, acknowledged having doubts about the campaign when Baker first threw his hat into the ring. Baker's father, John, said he was in shock over the win. "I had an awful lot of doubts when this first started, I thought it was just a thing to do," he said, "but seeing everyone, it makes me feel real good."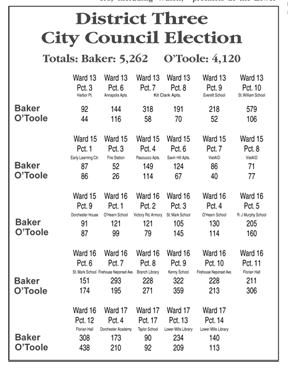 District 3 resultsWalsh said the Baker camp also had supporters spread out across the district. "We had people in every neighborhood," he said. "He did well throughout the district."
Baker won both precincts at the Lower Mills Library, a key battleground in ward 17— which also tipped into the Baker column. A top supporter, state Rep. Linda Dorcena Forry, stood outside the branch library for most the day, asking voters to fill in the oval for Baker. Forry is the daughter-in-law of Reporter publisher Ed Forry, who offered up a personal endorsement of Baker in the closing days of the race.
Baker also notched wins at all but one of the seven precincts in ward 15 that are in the district— including polling stations in Fields Corner and Meetinghouse Hill.
O'Toole had picked up the endorsement of the Boston Globe and Herald, with both papers praising O'Toole's thick civic resume. His strongest showing of the day was at Florian Hall— where the potent double precinct delivered 744 votes for O'Toole.
Kevin White, a Cedar Grove resident who voted for O'Toole, echoed several O'Toole supporters who expressed disappointment with Tuesday's results.
"It's a sad defeat for John O'Toole and a sadder victory for the city of Boston," he said. "I think the more qualified candidate wasn't considered by the voters. It's mind-boggling."