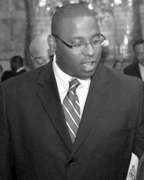 Tito Jackson, a former aide to Gov. Deval Patrick, won ousted City Councillor Chuck Turner's seat in a landslide Tuesday, as 8.4 percent of registered voters in District 7 turned out to choose him over the former civilian homicide investigator Cornell Mills.
According to the city election department, Jackson received 2,829 votes – 82 percent – to Mills's 556 votes – 16.13 percent – in the special election for the seat that includes Roxbury, parts of Dorchester, the South End, and the Fenway.
Jackson, a Dorchester resident, will hold the seat for the rest of this year to fill out Turner's term. The former councilor, who had served nearly a decade on the City Council, was tossed off the 13-member body last year after he was convicted of accepting a $1,000 bribe in a sting operation and lying to FBI agents about it.
The FBI's probe primarily ensnared former state Sen. Dianne Wilkerson, Mills's mother, who reported to prison last Friday to start a 3.5-year prison term after she pleaded guilty to accepting $23,500 in bribes.
Jackson, who was supported by Turner, may have to defend his newly won seat later this year when city voters return to polls for the biannual municipal election. On Tuesday night, Mills's campaign manager indicated that he will mount another challenge to Jackson in the fall, while other campaign aides cautioned that no final decision has been made.
Potential opponents should expect to face the same challenges that confronted Mills and others who ran in the preliminary: Jackson's strong field organization and a hefty fundraising haul, both of which were enhanced by his active role in Gov. Deval Patrick's reelection campaign and by an unsuccessful run for a Council at-large seat in 2009 that boosted his name recognition.
The 35-year-old Jackson retreated to a backroom of Biff's Lounge in Grove Hall Tuesday night, away from a live band's rendition of "Electric Slide," and talked about his goals: economic development, safer streets, and affordable housing.
"They spoke loudly, they spoke boldly," he said of voters, adding that the result showed they were willing to "focus on what we want instead of what we don't want."
Jackson said he wants to be a role model for youth. "That's why we do this work."
He singled out his mother, Rosa, for praise. "I'm just so happy and proud I got to stand with my mom," he said. "She gave her all in the campaign. She stood outside in the cold all day to make this a reality."
The crowd of 100 supporters at the lounge, which is located in the basement of Prince Hall, included a number of at-large and district councillors, including Felix G. Arroyo, Michael Ross, Sal LaMattina, and Bill Linehan. Lisa Wong, Fitchburg's first minority mayor, appeared after the results were in, hugging Jackson after he emerged from the backroom. State Rep. Aaron Michlewitz (D-North End) also put in an appearance.
"Eighty-two percent is an impressive showing," Arroyo said, before quipping: "The last person I know who got 80 percent was the president of Egypt."
John Tobin, a former city councillor from West Roxbury who now works for Northeastern University, recalled phoning Jackson on Monday night with some advice on winning an election. "You'll never forget your first one; just enjoy it. Be with your mom."
Around the corner at Mills's campaign headquarters on Blue Hill Ave., his supporters remained upbeat. Natalie Carithers, who ran in last month's preliminary, sat in front of a laptop displaying the results on the Election Department's website.
"What we're doing here is building a movement," Mills, 36, told a crowd of about 30 people. He did not specifically say he was running again this year; instead he focused his remarks, in part, on again starting up a black men's leadership group, and saying that he had missed his children while on the campaign trail.
His campaign manager, Rev. Chris Womack, was clearer when asked whether Mills was running again. "This wasn't the end-all, be-all," he told the Reporter. "We're definitely having plans for the seat in September."
Carithers said the district's low turnout in the special election and the February preliminary was a result of the community's apathy. "It doesn't understand the value of the vote and the impact the vote has," she said.
In February's preliminary, 7 percent of the District 7 electorate turned out, with Jackson receiving 67 percent of the vote in a seven-way race.
Near the end of the night, Mills and several of his supporters crossed the street over to Biff's. Inside, Mills posed for a picture with Jackson and Michael Curry, the head of the Boston chapter of the NAACP.
Separately, a federal judge on Tuesday rejected Turner's attempt to delay entering prison on March 25 while he appealed his conviction. Judge Douglas Woodlock, who sentenced Turner to three years in prison, said he had reviewed Turner's case.
"Upon that review, I find no issue either asserted or unasserted by the defendant which presents a substantial question of law or fact that could lead to reversal of his conviction, an order for a new trial, a sentence that does not include incarceration or some reduced term of imprisonment that might be less than the expected duration of the appeal period," Woodlock wrote, in a decision handed down as voters were going to the polls.
Turner is also still contesting the authority of the City Council to remove him from office, as well as appealing his sentence and conviction.