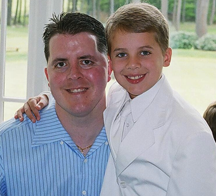 Joe Rooney with his nephew Colin RooneyWhen the tenth annual 5k road race and walk to support the Brain Anuerysm Foundation steps off near Humarock beach next month, look for Dorchester's Joe Rooney near the starting line. He'll be the one running around, shouting instructions and making sure that all goes according to plan.
The fact that the 37 year-old is even up and around — let alone managing a charity road race— is a wonder. That Joe, who hails from that famous clan of Rooney brothers (there are ten in all), is now back to work, driving, and building a new life in St. Margaret's parish is nothing short of miraculous.
Ten years ago this month, Rooney was bed-ridden, effectively paralyzed and, yet, lucky to be alive. In January 2001, Rooney was felled by a sudden seizure while visiting family in Vermont. The brain aneusysm which afflicted him came out of nowhere and would have killed 9 out of 10 people.
"I was given a very minimal likelihood to survive," Rooney recalls. "By the way its measured by grade, I had a very serious grade of four. Grade five is death."
Five hours of surgery saved his life. His parents and nine siblings helped him slowly recover— along with teams of caregivers at Mass General and a rehabilitation center in Braintree. It took a few years for him to learn to walk and function normally again. Even learning to talk again was an enormous feat.
"I knew exactly what I wanted to say in my head, but I couldn't spit it out flowingly. Frustration sets in and anxiety sets in. It takes a very long time for the brain to heal and to recover from an injury like that," said Rooney. "I went through tons of therapy: I had no choice with parents and nine brothers on my butt every day."
The Rooney clan also had the help and guidance of the Brain Aneurysm Foundation and its leader, Christine Buckley, who step in to educate and counsel families in their most difficult moments. These days, Rooney not only helps organize the annual road race, but he serves as a volunteer counselor, assisting families who find themselves in a hospital room— facing a seemingly hopeless prognosis.
"My mission is to educate people who are out there about aneurysms. I understand what I went through and there people who are out there are going through the same thing," said Rooney.
The May 29th race and walk— known as the Arterial Challenge— raises money for research and supports the work of the foundation locally. More than 300 participants are expected to take part.
Registration is $25 and includes a t-shirt for all who pre-register by May 13. Participants can also register on the day of the event at 8 a.m. at the town parking lot at 3 River Street, Humarock. For more information on the event and to register, visit bafound.donorpages.com/2001ARTERIAL CHALLENGE/
"One step at a time, that's how I've had to schedule my life over the last ten years," says Rooney. "I'm so lucky to have the family that I have."