By
Staff
February 23, 2011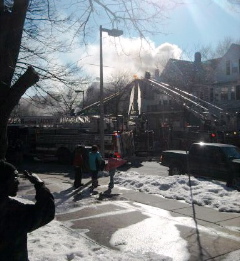 Washington Street fire: Photo by Judy Tuttle
The Boston Fire Department had to respond to two fires that broke out almost simultaneously at opposite ends of Dorchester early Wednesday afternoon. A total of 120 firefighters fought both blazes, the department says.
A fire at 41 Norton St. was caused by an overheated power strip on the second floor that had several combustible items piled atop it, the department reports. The resulting fire caused an estimated $300,000 in damage and displaced several residents.
A fire at 699 Washington St. erupted around the same time. The cause of that blaze is still under investigation. The department says it also started on the second floor, and spread to the attic. Six people were displaced by the fire, which the department says did an estimated $275,000 in damage.