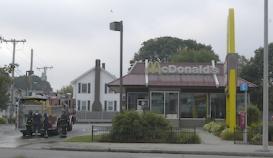 Fire at Gallivan Blvd. McDonald'sA gas-fueled kitchen fire at the McDonald's restaurant on Gallivan Boulevard injured one worker and caused heavy damage inside the building this morning. The fire began shortly before 7 a.m. as workers were trying to start a stove inside the restaurant, which suffered heavy smoke damage, according to employees.
A worker leaving the scene this morning told the Reporter that one worker burned her hand in the incident. She said that there was a heavy odor of gas just before the fire erupted. Smoke was seen rising from the restaurant at 511 Gallivan Boulevard near Adams Corner, snarling traffic in the neighborhood during the morning commute as emergency crews responded.
"We smelled gas and then the flames just shot up," said the employee. "The whole kitchen is destroyed. The firefighters had to tear down a wall to get it out."
The employee believed that the store would likely be shut down for the next week.
Boston Firefighter Steve MacDonald, a spokesman for the department, confirmed that a gas leak is suspected to have caused the fire.
"There was a gas leak behind one of the stoves and they had a small fire," said MacDonald, adding that the injured employee did not require transport to the hospital. MacDonald said that the BFD estimates that the fire caused $25,000 in damage.