By Reporter Staff
February 15, 2011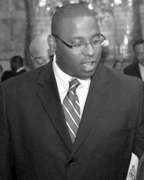 Tito Jackson: Big winner tonight in District 7 race.Tito Jackson, the heavy favorite to replace Chuck Turner as the city councillor in Boston's district 7, can celebrate a landslide victory with his supporters tonight, according to preliminary figures relayed to the Reporter newsroom.
The Reporter's Gin Dumcius, who is covering the results in the field tonight, says that unofficial results show Jackson with 1,943 votes compared to his closest rival, Cornell Mills, who has 271 votes. That gives Jackson a whopping 67 percent plurality— and a huge advantage as he and Mills head towards a final showdown on March 15.
Mills is the son of former State Senator Dianne Wilkerson, who made an appeal to voters in a letter sent to residents on Monday.