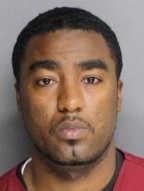 Shabazz Augustine: Prosecutors say his former Sydney Street residence was murder scene in '04.(Updated June 30, 5:10 p.m.) — A Dorchester man accused of suffocating a 26 year-old Malden woman to death in his Savin Hill apartment during a envy-driven argument— and then dumping her body in the Charles River in 2004 — was ordered held without bail this morning during his arraignment in Dorchester District Court.
Shabazz Augustine, 32, cowered out of view behind a door in a Dorchester court as the family of the victim, Julaine Jules, strained for a view at the suspect. Augustine, a dental hygenist, was arrested Thursday at the Kool Smiles clinic in Roxbury where he works by a team of Boston Police officers.
Jules was a pretty, Haitian-American woman who worked as a secretary at the Children's Museum at the time of her death. She was missing for more than a month before her decomposed body— wrapped in plastic garbage bags— surfaced on the Cambridge side of the Charles River on Sept., 19, 2004.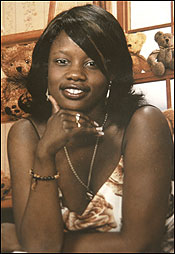 Julaine Jules: Prosecutors say Shabazz Augustine killed her in his Sydney St. apartment in 2004.
The arrest of Augustine after seven years stunned the victim's family— which learned of the break in the case from Boston Police and the Suffolk County DA's office yesterday. Prosecutors say that Augustine was upset after learning that Jules — whom he had an apparent romantic connection to— had been spending time with another man in the days before her disappearance.
Augustine— furious at Jules— "enlisted one of his cousins to concoct a ruse" that prompted Jules to drive to the suspect's Sydney Street apartment on the evening of August 24, 2004, according to Assistant District Attorney Mark Lee. (Prosecutors tell the Reporter that the female cousin is believed to have been an unwitting accomplice in luring Jules to the Dorchester apartment and is not likely to face any criminal charges.)
"An argument ensued and [Augustine] suffocated and subsequently killed her by asphixiation," said Lee, adding that "we may never know" precisely how Jules was murdered.
Augustine is then alleged to have disposed of Jules' body in the river before driving Jules' car to a strip mall on the Revere-Malden line, where he torched the vehicle.
Lee said in court that Augustine has made a "series of incriminating statements" over the years that implicate him as the murderer, including "an admission that he killed her."
After the arraignment, Lee was pressed to explain why Augustine has been charged now — seven years later. Augustine was the focus of police investigators immediately following the discovery of Jules' body, according to the Boston Herald, which reported that Augustine's former apartment at 137 Sydney Street was the subject of a police visit in 2004.
Lee refused to comment specifically on the evidence against Augustine, beyond saying that "statements made [by Augustine] over a period of time" were part of the state's case.
More than two dozens members of Jules' family were on hand to watch the proceedings, including the victim's 30 year-old brother, Chener Vincent, who spoke to reporters on behalf of his family.
"I'm feeling numb and my mom feels the same," said Vincent, whose mother was also in attendance. "It's a bittersweet situation. We are happy progress has been made."
Vincent said he never met Augustine and — for the last seven years— was never sure of who the killer was.
Mrs. Jules— the victim's mother— told the Reporter that she also never met the suspect. Augustine, she said, was part of a group of people who paid her a visit shortly after Jules' body was discovered, but she was too grief-stricken to meet him.
Augustine's attorney, Steve Sack, argued in court that he should be granted a "reasonable bail" because he has strong roots in Dorchester— where he's lived since 1999— and because he has never sought to flee, despite knowing that he was considered a possible suspect in the murder of Jules. Sack added that Augustine's "partner" is due to give birth to a baby this week and that he is the primary source of income for her and his family.
But, Assistant DA Lee argued that Augustine's family has strong ties to Trinidad — where his family travels annually— and that he could pose a flight risk. Judge Robert Tochka agreed with the prosecution team and ordered Augustine held without bail. He is due back in Dorchester court on August 1 for probable cause hearing.
Suffolk County District Attorney Daniel Conley told the Reporter on Thursday that the long-awaited arrest of Augustine was "deeply satisfying", but he cautioned that the court process ahead could be prolonged.
"It's always gratifying when we can deliver news like this to a family that's been grieving the loss of a loved one for so long," said Conley. "We believe we have solved the case and we hope the family feels a sense of satisfaction. But its far from over. The court process can grind on and we'll be with them every step of the way."
"Hopefully, one day a jury will view the evidence the way we do and hold the defendant responsible for this crime," said Conley.