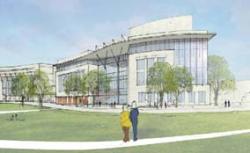 Latest UMass Boston building plan: Will house performing arts and science classes. UMass Boston imageUMass Boston officials are aiming to break ground on their next academic building this winter and hope to have the $113 million structure open by summer 2015. The building will include chemistry teaching labs and house studios for the arts department and performing arts, which are currently scattered across the Columbia Point campus.
The 181,000-square foot facility will be located next to the Campus Center, a site currently being used for parking. It will include studios for producing sculptures, photography, painting and video; dance and acting students, a 150-seat recital hall and a theater that could hold up to 200 people.
"This is going to be a pretty unique building in that you're housing arts and hard sciences," said Sue Wolfson, director of campus master planning. "So you've got students who are in chemistry interacting with students who are into drawing and painting. And then you'll have all of our students using the general purpose classrooms."
The university plans to have 25 such classrooms in the facility, with 18 of those providing seating for 40 or fewer students. The building will also have four discussion halls that will seat 150 to 200 students and a 500-seat lecture hall.
Funding for project will be split between the UMass Building Authority and UMass Boston, with the agency providing $100 million in bonds and the university offering $13 million.
The university is required to hire union workers for the project under what is called a project labor agreement, an issue that drew controversy during the 2010 gubernatorial election. Proponents argue that such agreements provide a highly skilled workforce that gives up the right to strike, while opponents say they drive up costs and limit competition.
Wolfson said a design for the building has not been finalized yet, but it could end up with similar colors to the Campus Center and the use of limestone and bricks.
The plans for another academic building come as UMass Boston presses ahead with a $750 million master plan that includes additional facilities and infrastructure improvements and alters 71 acres of the 99-acre campus.
Enrollment has rocketed over the last several years to more than 15,000 students, likely spurred by a recession that has parents and students seeking out cheaper options in college-rich Boston. A university blueprint issued in late 2011 predicts 25,000 students by 2025 and calls for a 1,000-student dormitory to open by fall 2014.
An integrated sciences complex, which will include space for biology, chemistry and psychology research, is currently under construction and expected to open in 2014, the same year UMass Boston turns 50 years old. Campus officials are also seeking to rework the campus's roadways, which are set up like a one-way racetrack encircling the university, and demolish the existing science center.
UMass Boston also recently acquired full control of the former Calf Pasture Pump Station property from the Boston Water and Sewer Commission and the city of Boston. Wolfson said the university is still figuring out what to do with the property, and they will likely use it as space for laying down equipment and materials for utilities and roadway work for the foreseeable future.
In 2010, UMass bought the Bayside Expo Center for $18.7 million. Officials expect it continue to function as a large parking lot since that they're losing a parking lot in the construction of the general academic building. "Given our needs for parking, we won't have the ability to start developing the site until we have our parking garages in place," Wolfson said.
She added that the university hopes to have all those garages built on campus in about eight years' time.