By Gintautas Dumcius, News Editor
December 27, 2012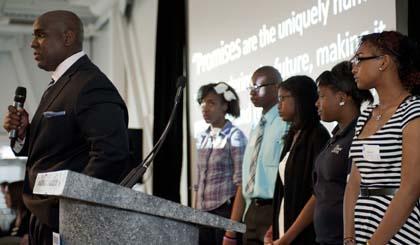 On the Friday afternoon before Christmas, when most of their friends and classmates headed home to get an early start on the holidays, about a dozen teens sat in a former manufacturing facility, several of them staring intently at their computer screens.
But they weren't playing games; their mission was to hammer out a budget and a business plan for setting up a garden to grow vegetables and sell them in the summer.
"You can tell it's teens, pizza sauce on everything," said Jorge Santana, a 33 year-old from the Bronx, after showing an action plan with red stains on its pages. The proposal is being submitted to United Way because the project needs "seed" money – about $1,000 – to get started.
"We have ideas about building a greenhouse to start sooner, start experimenting," Santana said, adding that they're in talks with the Dudley Street Neighborhood Initiative and the Haley House in Roxbury for potential gardening space.
Santana, a clinical program manager at Friends of the Children Boston, says the initiative is called "Go Green Not Gangs." It's one of several happening under the roof of the Friends of the Children Boston, a nonprofit based in Jamaica Plain that is focused on mentoring students, starting with first grade and moving all the way to twelfth grade – a 12-year "promise," according to Juma Crawford, the executive director.
Seventy percent of the children come from Dorchester, Mattapan, and Roxbury, and they're paired with mentors who work with them on academic, social, and emotional matters. There are 125 students, or as they're called in the organization, "Achievers," from 49 Boston public schools, according to Friends-Boston. "It's social work, youth advocacy, and mentoring all at the same time," Crawford said during a sit-down in the Friends-Boston's offices.
The nonprofit started in Portland, Oregon, in 1993, and established a Boston branch in 2004. There are also chapters in Seattle and New York.
Crawford, who has worked at the Little House Middle School at College Bound Dorchester and served as foundation board member at Codman Academy Charter School, joined up with the nonprofit in 2011. He said he was drawn to the organization, which privately raises $1.2 million for its budget, because of its 12-year structure. The nonprofit picks children based on what their family structure is like, such as a history of drug abuse, incarceration, he said. "We want to break those cycles," he said. "We're selecting the highest risk students."
To help the students grow emotionally and socially, the nonprofit sets up road maps for them. For example, the nonprofit's "Friends," as the mentors are called, are working with a 10-year-old girl who lives near Dudley Square with her single mother and siblings, helping her participate more in class and planning to take her to visit colleges.
"She has had challenges with math, attendance, seeing the value of school, and with relationships with her peers and teachers, so these are all things her Friends work with her on," said Caitlin Day-Lewis, director of development for Friends-Boston. "She is quick to shut down when frustrated, so her Friends are working with her on learning to express her emotions in a productive way."
This year, Friends-Boston is partnering with the Trotter Elementary School and selecting the new class of first graders to mentor.
The school's principal, Mairead Nolan, had some experience with the group several years ago: A third grader entered the school, with a mentor from the nonprofit already in tow. "He just was really able to turn things around and really decide to define himself as a student, and took a lot of pride in being a successful student," Nolan said. "And I think the Friends of the Children really contributed to that."
Nolan said the mentor helped connect the school to the child and his home life. "I think it's a great program in the sense that it's a nonprofit service provider for the school and the home. And all three pieces need to be working together," she said.
Now the nonprofit is working with 12 children out of a class of 66 first-graders at the Trotter.
"They look forward to the days their mentors are coming," Nolan said.