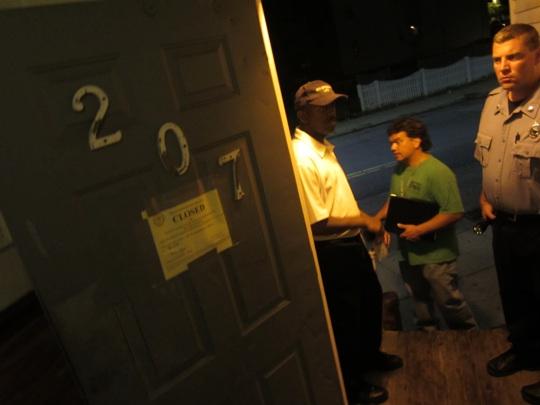 A team of Boston Police and city inspectors raided a Woodrow Ave. house early this morning, seizing DJ equipment and ordering the third-floor tenant to appear in court for keeping a disorderly house and allegedly running an illegal restaurant and after-hours party spot.
The third-floor apartment at 207 Woodrow Ave. has been on the radar screen of city officials for the last two months. They've heard complaints from neighbors and police, who've observed a heavy traffic of late night visitors coming and going, often to the break of dawn. On Friday night, the team — led by B-3 Sgt. Detective John Fitzgerald and Inspectional Services assistant commissioner Darryl Smith, moved in to to shut down the nusiance "before someone gets hurt."
Murielle Cadet, the tenant on the third floor at 207 Woodrow, strongly denied the accusation that she's hosting an illicit after-hours operation. Cadet and others gathered outside the residence insisted to the Reporter that the gathering of some 40 people —that's the number police say they found when they arrived around midnight— were there for a family party.
"There's no restaurant," Cadet said. "It's just a family thing."
Cadet will have to explain her side of the story to a Dorchester District court judge this week. She was handed a summons to appear for keeping a disorderly house. Police warned her that if they returned to the address later to find another crowd there, she and her guests would be subject to arrest.
Another young man whom police say was the house DJ was also handed a summons and watched as his laptop computer and turntable was loaded into prisoner transport wagon and driven off to the nearby B-3 station house. Police left behind several huge speakers that Sgt. Detective Fitzgerald decided were too big to move.
Smith, who heads up the Dorchester-Mattapan Neighborhood Response Team for Mayor Tom Menino, says he has fielded numerous complaints from the neaby Franklin Field South Neighborhood Association and other neighbors about the alleged after-hours parties here.
Smith says that Cadet attended a recent meeting with him and other city officials in which she was warned that the city was preparing to crack down if she persisted in late night entertaining. Smith said that Cadet admitted to charging patrons for plates of food and beverages and was told to cease.
"We have monitored it since that time," said Smith, who said city inspectors learned that visitors to 207 Woodrow were being charged $7 for a plate of food and more for beers, which were being served as well.
"We've seen an uptick of this lately," said Smith. "People are trying to capitalize on the lack of late night options after the clubs let out. But the community has had to deal with this— people hanging out outside here, up the street and across the street at the [Temple Salem Seventh Day Adventist] church. People flock here after the clubs let out. It's become known as the place to go. And people who live here have had enough of it and tonight is the start of the end."
A code enforcement officer tacked a sign on the front door of 207 Woodrow warning visitors that it was closed for business. The landlord — a Medford-based company that uses the address as its name— will be cited for a failure to legally change its occupancy from residential to a restaurant. The property owner is also facing possible fines for trash piled in the yard and non-functioning smoke detectors.
Sgt. Det. Fitzgerald, who led the Boston Police presence at the scene, said that the crackdown reflects long-standing concerns about after-hours gatherings on the B-3 district.
"A lot of the violence on B-3 stems from after-hours parties, in the 2-5 o'clock time frame usually," said Fitzgerald, who said officers had observed loitering and noise from this particular residence in recent weeks.
Cadet, however, took issue with the city's charaterization of her apartment as a restaurant or after-hours hang-out. She claims that this is the first time in three years that police had visited her door.
In addition to the citations for running a disorderly house and running an illegal restaurant, Cadet and the landlord will be required to attend a hearing at City Hall on Wednesday, according to Smith.
The landlord will also be served an emergency order to fix the smoke detectors in the building. None of the smoke detectors in the third-floor apartment were working at the time of the raid on Saturday morning. City inspectors will be dispatched next week to review the rest of the building, Smith said.