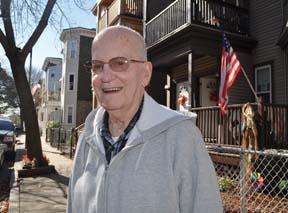 Joe Chaisson has seen a lot of change take place all around him over his 80 years on this earth. But this lifelong Savin Hill resident —who has been one of the fixtures of civic life in this part of Dorchester since 1970— has been a largely unmovable object.
Chaisson and his wife Carol still live in the Auckland Street home that his mother bought in 1955. As a young man, the St. William's Grammar School graduate, who went on to Dorchester High for Boys, logged many hours on the highways of the country as a trucker. But he never strayed too far from home, living all of his years within a six-block radius of where he was born in 1932, on Maryland Street.
And since the early 1980s, Chaisson has been a one-man crusader against urban blight — with a particular emphasis on the proliferation of the billboards that have cropped up along the Southeast Expressway near his home.
Chaisson, who is battling pancreatic cancer, will be feted for his decades of civic service at a testimonial next week at the Venezia Waterfront Restaurant in Dorchester's Port Norfolk section.
"I was shocked when I heard about the dinner, but they told me to mind my own business, take a nap, and just show up," says Chaisson, who is known for his biting wit and sharp tongue when it comes to battling for his causes as a leader in the Columbia-Savin Hill Civic Association. In his time, he has been up one side and down the other of many an elected official, developer and even a few reporters.
But Chaisson also has a easy smile and a philosophy about civic life that has served him — and his neighborhood— well. He went to his first Columbia-Savin Hill meeting in 1970, a few days after his mother died. He had found her membership card in her belongings and decided to see for himself what the association was all about.
"Columbia-Savin Hill Civic today is like it was years ago," Chiasson said over coffee in his tidy kitchen. "We would go to meetings and tear each other apart and then go around the corner to Tom English's [bar] and have a drink and joke about what we'd just argued about."
Chaisson hasn't touched a drink himself since he quit the bottle in 1983, a lifestyle shift that transformed his life and ultimately led to his marriage to longtime girlfriend Carol, a Belmont gal whom he met at a ski party dance in the '50s. His other saving grace: a devotion to the wider neighborhood through the Dorchester Day Celebrations Committee. Since 1992, he has organized an annual "Senior Salute" that gathers hundreds of elderly residents for a luncheon to mark Dorchester's founding in 1630. He has also been an active member of the Ward 15 Democratic Committee and a warden, running the election day polls at his home precinct, Savin Hill Apartments, 15-6.
But, it has been his long, hard slog against billboards that has made Chaisson a household name across Dorchester's plugged-in civic circuit. Many folks met him when he spearheaded the billboard campaign in the late 1980s through a now defunct umbrella group called Dorchester Allied Neighborhood Association (DANA).
Asked why he despises outdoor advertising, he can barely contain his contempt: "They serve no purpose whatsoever. They're dangerous, because you take your eyes off the road." Chaisson pressed his case to make the installation of new billboards a "forbidden use" in Boston. (All new boards must get special clearance from the city's Zoning Board of Appeals and seek hard-to-get support from civic groups.)
This civic warrior also played a pivotal role in the mid-1990s in Columbia-Savin Hill's oversight of a new drug store on Dorchester Avenue (now part of the Rite-Aid chain) that replaced a block of dilapidated three-deckers. Chaisson favored the store's construction, but led the civic group's efforts to make sure the construction jobs went to union workers.
More recently, he has been tapped to keep watch on new developments in the Polish Triangle section of Dorchester adjacent to South Bay Mall. Concerns about the possible expansion of large box stores outside of the current footprint of the mall have triggered a coalition of civic groups to form a partnership to monitor any developments there.
When Chaisson was a teenager in the 1950s, state engineers built a highway that cut parts of his neighborhood off from the sea. Even though the expressway helped traffic flow for a time, the experience helped inform his view of development— and the need for local people to stay active in decision-making.
"My feeling is that I've tried to do what's right for the neighborhood as a whole, not just Columbia-Savin Hill. I like to feel that I've done some positive, but I know I've been wrong, too. I'd say the changes here have mostly been for the positive."
Chaisson says his work is far from done. He has lost a few pounds since his cancer diagnosis and treatment that began six months ago, but, he says, "I don't feel any different." He seems more worried about next week's testimonial turning into a roast than his next doctor's appointment.
"I don't know," he says. "Hopefully I'll roll with it."
Organizers plan to use funds raised at the dinner to install a bench and a community message board in Joe's honor near the Savin Hill T station.
The Joe Chaisson Testimonial Dinner will be held on Thurs., Nov. 8 at 6 p.m. at Venezia Restaurant. Tickets are $50 per person, $35 for seniors. Tables of ten are $500 and include an ad in the event program. Donations can be made payable to the Joe Chaisson Testimonial, c/o Anne Riley, CSHCA, 28 Sagamore St., Dorchester, 02125. Call Anne Riley at 617-999-5639 or send an e-mail to her at anne.cshca@comcast.net