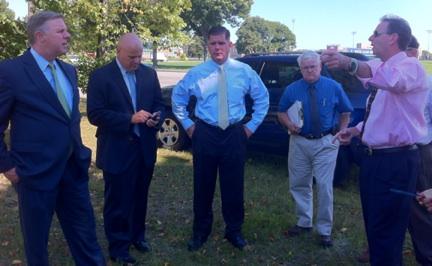 Mounting concerns about pedestrian safety on Morrissey Boulevard prompted a roadside huddle this afternoon featuring elected officials, State Police and state transportation officials, who promised to "immediately make improvements" at the intersection of Morrissey and Bianculli Boulevard.
Senator Jack Hart, Rep. Marty Walsh and City Councillor Frank Baker met on site today with senior officials from the Dept. of Conservation and Recreation, UMass Boston officials and State Police.
Reporter editorial: Long view, fast action needed to fix Morrissey
In a press release issued this afternoon, Walsh's office said DCR "committed to immediately make improvements to the pedestrian signals. Changes will be made to the traffic signals so that all traffic will be stopped while pedestrians safely cross from one side of Morrissey Boulevard to the other."
The problems at the intersection have been highlighted by Savin Hill residents- including a video posted last week— and in stories in the Dorchester Reporter.
Walsh said that the elected officials have set up a follow up meeting with the State Police, DCR, and UMass Boston "to discuss a long term, reconfiguration plan for the intersection."
"It is my hope that this immediate action will alleviate the safety concerns of pedestrians who use this intersection to access the Harbor Walk and the UMass Boston campus." stated Senator Jack Hart.
Rep. Walsh told the Reporter this week that he has asked the Columbia-Savin Hill Civic Association to form a subcommittee to focus on a redesign of the intersection.