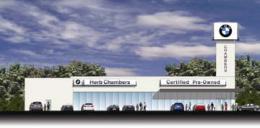 Proposed Herb Chambers dealership on Morrissey Blvd.The Boston Redevelopment Authority will convene a public meeting on Thurs., Dec. 6 to discuss auto magnate Herb Chambers' plan to convert the old Channel 56 building on Morrissey Boulevard into a car dealership and repair center.
The Reporter first reported in October that Chambers intends to purchase and renovate the now-empty TV studio at 75 Morrissey Blvd, which is valued at $4.5 million according to city records. The sale price of the property has not been disclosed and it is not yet clear if Chambers has acquired the property at this time.
Chambers is a Dorchester native whose automotive empire now includes 50 dealerships and franchises throughout New England. He intends to sell certified, pre-owned BMW cars on the site. The business will also service vehicles that Chambers sells in Dorchester and at his existing BMW dealership on Commonwealth Avenue in Boston.
"I happen to love this location; it's just terrific," Chambers said in October. "It's got great exposure to the Expressway. I think it's going to be a very successful spot for us."
Next Thursday's meeting will be held at 6:30 p.m. at the Cristo Rey Boston High School, 100 Savin Hill Ave. The project will be open to public comment through Dec. 17. For more information on the BRA oversight of the proposal, contact Lance Campbell at the BRA, 617-918-4311 or lance.campbell.bra@cityofboston.gov