"It's like trading in your old broken-down Chevy for a new Beemer," explains Father Vincent Daily, the pastor at St. Gregory's church in Lower Mills. Some might raise him and say the new organ that was installed in the loft at Dorchester's oldest Catholic church this week is more akin to a Rolls Royce.
A six-man crew used a hydraulic lift to hoist the 550-pound musical behemoth up into its new perch on Tuesday afternoon as a very happy pastor looked on. The organ, manufactured in Macungie, Pennsylvania, is a state-of-the-art instrument that cost $90,000 — almost all of it paid for by generous parishioners from St. Greg's, a point of pride for Father Daily.
"This is a beautiful, cathedral-like church and it deserves the finest instrument we can get," Fr. Daily said as he watched the workmen carefully maneuver the organ into position. "I think this is a hopeful sign that we're building, we're growing. Our attendance is up and we're fortunate to have some very generous parishioners who stepped forward at the chance to help us."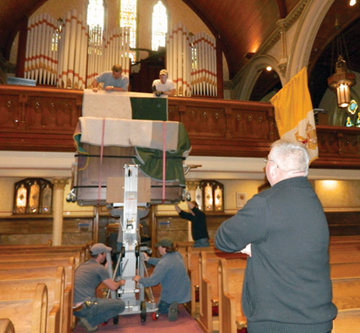 New organ gets a lift at St. Gregory's church. Photo by Bill ForryThe new organ will blast out its notes via 14 new digital speakers located throughout the church. The old electric organ, which dates back to about 1980, was "good for its time," according to Greg Martiros, whose company, G. Paul Music, is the New England dealer for the Allen Organ Co. Allen, located in the "heart of Pennyslvania Dutch country," has been in business since 1939 and is the only American-owned digital organ-maker, Martiros says.
Father Daily and St. Gregory's musical director, James Busby, "test drove" the 3-manual, 58 stop Protége model organ at Immaculate Conception parish in Marlborough before agreeing to purchase the new one for St. Greg's.
Roger Mansen, who serves as the musical director at Immaculate Conception, was on hand for Tuesday's delivery in Dorchester and helped to get it tuned up for its debut performance: a 10 a.m. funeral Mass yesterday. Mansen says that his parish has had the exact same Allen organ in its church for the last five years and is delighted with its performance.
Father Daily is looking forward to hearing St. Gregory's two resident organists —Diane Doherty and Busby— as they accompany singer Sean Roper and others during the liturgy. He's also looking forward to a respite from repairmen, whom he had on speed-dial because the old church organ was constantly in need of work.
The pastor believes this to be the fourth organ to inhabit the loft in the 1863 church. The original was likely a Hastings model that was installed around the time the church opened.  A second Hastings model— with the elaborate, wooden pipes that are still visible atop the rear of the church's interior— was installed around 1902, followed by the electric organ in 1980.
The pipes in the back of the loft have not worked in decades, according to Father Daily, but they will remain in place.