By Gintautas Dumcius, News Editor
June 25, 2012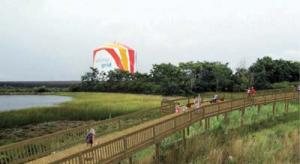 Neponset Greenway: A segment of the Greenway's expansion would allow users to safely navigate the gas tank property on Dorchester Bay. The proposed completion of the Neponset Greenway trail suffered another setback this week, after federal transportation officials again passed over the Massachusetts project for grant funds.
The state was vying for a federal grant, known as TIGER IV, to help provide money for completing a trail from South Boston to the Blue Hills. The proposed project also includes a pedestrian bridge at the Mattapan MBTA train station and a bridge connecting Boston and Milton.
The state Department of Conservation and Recreation has said it would provide $2.5 million, while seeking $12.4 million from federal officials.
It's the second time the Neponset trail project has faced rejection: In December, the federal Department of Transportation took a pass on the proposal when DCR sought grant funds known as TIGER III.
DCR Commissioner Edward Lambert said the department is disappointed, but the volume and quality of applications for the TIGER grant program was high.
Lambert stressed that the department, which will be meeting with community groups and legislators who support the proposal, remains committed to completing the project. "It's a project that brings so many benefits to the communities and neighborhoods in terms of connections," he told the Reporter.
Taking on the project incrementally is "one way to do it," he said. He added that they may submit for federal funding in a future round, but they aren't going to wait around for approval.
"We certainly don't want to have the planning we've done thus far sitting on a shelf waiting for a single answer," Lambert said.
Developing…
UPDATED: At 5:03 p.m. with Commissioner Lambert's comments.