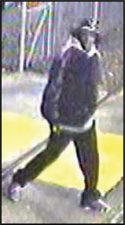 Suspect #2 in trolley attack: Captured on surveillance video at Butler Street station on Monday. MBTA Police imageMBTA police are investigating a Monday night attack of a man riding the Mattapan trolley as a possible anti-gay hate crime.
The incident took place at 10:30 p.m. on Monday night as the 48 year-old male victim was a passenger on a Mattapan-bound high-speed trolley in the vicinity of Butler Street station. According to MBTA Police, the two men "assaulted the victim while berating him with racial and homophobic slurs." The two suspects— who have not yet been identified or caught— allegedly tried to pull the victim off the trolley to continue the assault.
The victim did not require medical treatment, according to MBTA spokesperson Lydia Rivera.
"The customer was obviously very upset and he did say that his civil rights had been violated," Rivera said. "He went on to his destination."
Suspect #1 in trolley attack: MBTA Police imageImages of the two suspects were recorded by surveillance cameras at the Butler Street station. Those images are currently featured on a wanted poster that has been distributed to local police, a copy of which has been obtained by the Reporter.
The two suspects are both described as black males, 20-25 years of age. One was wearing a black coat, grey hooded sweatshirt, black jeans and a black and white baseball hat. The second suspect was wearing a white puffy coat, black jeans and a winter hat with the sides pulled down.
They are wanted for assault-and-battery with a shod foot and civil rights violations. Anyone who has any information that could lead to the arrest of the two suspects is asked to call MBTA police at 617-222-1068.