By Gintautas Dumcius, News Editor
March 1, 2012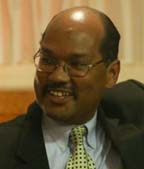 Councillor Charles YanceyA pair of state senators have lit into City Councillor Charles Yancey's resolution calling for a slowdown in Beacon Hill deliberations on the proposed three strikes and habitual offender bills. Sen. Steven Baddour, a Methuen Democrat who is vice chair of the budget-writing Ways and Means Committee, and Bruce Tarr, a Gloucester Republican who serves as the minority leader, accused Yancey's resolution of spreading "inaccuracies and misconceptions" about the Senate's habitual offender proposal.
Due to a scheduling conflict, the pair did not attend a City Council hearing on a resolution, but they sent an aide from Tarr's office to read a letter to City Councillor Michael Ross, who chairs the Public Safety Committee, and his colleagues.
Baddour and Tarr wrote that the Senate bill, which passed overwhelmingly, applies to a narrow group of individuals and crimes. "One need only review the list of applicable felonies to determine that the Senate bill most certainly would not 'ensnare the non-violent, the petty criminal, the drug dependent, and the mentally ill,' as the resolution proposed by Councillor Yancey states," they noted.
The cost of the bill, after implementation, will be offset by "cost-saving measures," such as allowing drug offenders serving mandatory minimum sentences to become eligible for parole, they added.
Yancey offered up a brief response, maintaining the bill takes away sentencing discretion from judges. In a statement before the hearing, Yancey said, "I don't think there is anyone on this body that would like to see hundreds of people warehoused in our prisons, when what they really need is drug and alcohol treatment programs."
In November, the House passed its own version of an anti-crime bill, with members of the Black and Latino Caucus voting against it, arguing that it negatively and disproportionately affects their communities.
House and Senate negotiators are attempting to work out a compromise bill to send to Gov. Deval Patrick, who has said he would support a balanced anti-crime bill "targeting the most dangerous and damaging for the strictest sentences, and better preparing the non-dangerous for eventual release and reintegration." Barbara Ferrer, head of the Boston Public Health Commission, echoed Patrick in her remarks, telling councillors that Mayor Thomas Menino backs a bill that is "appropriately tough" on crime but also includes "pathways" to drug treatment and rehabilitation.
At the City Council hearing on Tuesday, state Reps. Russell Holmes (D-Mattapan) and Carlos Henriquez (D-Dorchester) pointed to quick passage of the House bill, noting that there was little time for lawmakers to review the legislation. Officials from the Boston branch of the NAACP also testified against both the House and Senate bills, saying the language is too broad, and that the proposals will lead to overcrowding and increased costs from the hiring of parole officers.
Weighing of revamped Council districts continues

Councillors on the committee charged with redrawing the city's nine Council districts inched closer to a final map this week, as they weighed moving voting precincts from one district to another.
The political boundaries of state and local districts must be redrawn every ten years because of population shifts. State lawmakers finished redrawing Congressional, state Senate, and state House districts last year, while the City Council has been working on putting together a map that equalizes populations in the nine districts because of growth in some neighborhoods and population losses in others.
Per the open meeting law, councillors are hashing out the issue in public, and meeting roughly once a week.
District 4 Councillor Yancey on Monday released his own map, linking Latinos in District 1 to Asian voters in Chinatown, while chucking Charlestown from the district and into District 8. A map featuring that move is unlikely to garner support from the current District 1 city councillor, Sal LaMattina.
District 3 would remain largely the same under Yancey's Map, while District 7, which includes some of Dorchester, would extend into Mission Hill and the Fens.
Yancey said his map creates six districts with majority-minority population and maintained that the changes would lead to more people of color on the City Council.
But District 6 Councillor Matt O'Malley said he could not support it, noting that Yancey's map splits up neighborhoods like West Roxbury, Hyde Park and Mission Hill.
District 7 Councillor Tito Jackson also proposed a map, which would move the Polish Triangle into District 3. District 3 Councillor Frank Baker has said he supports such a move. Jackson's map, which O'Malley expressed support for, would flip Ward 4 Precinct 2 – the Prudential Center area – from District 2 into District 7. Jackson's district would also pick up Ward 8 Precinct 6, the Newmarket area.
District 2 Councillor Bill Linehan, chair of the redistricting committee, also proposed a map that would leave Jackson outside of his district and force him to move elsewhere within District 7, but councillors are unlikely to vote on a map that would put one of their colleagues in such an awkward position.
Polling location changes for presidential primary
Some voters in Wards 15 and 16 will be heading to a different polling location for the presidential primary on Tues., March 6. Voters in Ward 15, Precinct 1 will have to head to the Lilla Frederick Pilot Middle School on Columbia Road., down the street from the former location, the East Zone Early Learning Center. Voters in Precincts 7 and 10 of Ward 16 are slated to go to Pope John Paul II Catholic Academy's Neponset campus, once known as St. Ann's School, on Neponset Ave. The old polling location is the Engine 20 Firehouse up the street. More information is available at www.cityofboston.gov/elections.
EDITOR'S NOTE: Check out updates to Boston's political scene at The Lit Drop, located at dotnews.com/litdrop. Email us at newseditor@dotnews.com and follow us on Twitter: @LitDrop and @gintautasd.