Mayor Katie Hurley with a few of her trademark flamingoesIt's official: Your new 'Mayor' of Dorchester is Katie Hurley, a St. Mark's native who now lives in Cedar Grove, works for Councillor Frank Baker, and has raised thousands of dollars this spring to help pay for Sunday's parade. Hurley ran unopposed, but you'd never have guessed that by the way she ran her campaign. Hurley staged a flurry of events including a bowl-a-thon, trivia night, and a Valentine's-themed blow-out at Florian Hall.
Most visibly, she opened up a new front in the mayoral contest when she began "flocking" front yards across Dot with hot-pink flamingoes. Those who awoke to the flock had two choices: Pony up a contribution to the Parade committee or settle in for a long summer with your lawn ornaments. Is it any wonder that Hurley will ride in a place of honor in Sunday's parade? We put our traditional ten questions to Her Honor this week.
Reporter: It was touch and go there for a while, Madame Mayor, but you squeaked out a narrow victory over 'Blank.' Did you ever have any doubts that you'd prevail?
Mayor Hurley: It was tough, I had moments where I was a cornucopia of emotions. I laughed, I cried, but I had a great campaign staff that raised me up. We ran a clean campaign and that always prevails.
Reporter: Do you intend to be a strong mayor? If so, what will be your first executive order?
Mayor Hurley: During my reign as Miss America, I mean Mayor of Dorchester, I'd like to continue to raise awareness for the Dorchester Day Parade, have a few more fundraisers, and, of course, the flocking will continue. My first executive order is that everyone at this year's parade rocks it old school. I want to see Gazelles, Girbaud Jeans, Barracuda Jackets, Lawn Chairs, etc.
Reporter: Several people have told the Reporter at various times that they will act as your deputy mayor? Are they all lying?
Mayor Hurley: After a stringent vetting process, with input from members of my campaign, we decided early on that the best choice for Dorchester, and America, is Deputy Mayor Patrick O'Brien. He is a hard worker with many titles such as: Deputy Chief of Staff for Strategic Communications, Communications Director, Field Coordinator, Press Secretary, and finally Commander of the Flamingo Flock. I would also like to thank the other members of my campaign staff including Dianne Downie, Eddie Proctor, Krista Zalatores, Collin Myers, Susan Lucci, and Allison Quinn. Also a special thanks to my family and friends, and, of course, thanks to the Academy.
Reporter: Does the Hurley administration have an official color?
Mayor Hurley: There have been several heated exchanges between the campaign staff, the deputy mayor, and myself over what we think the colors should be. I say pink, black, and white, but my deputy had other ideas. He is still trying to institute his vision of what the colors of this administration will be. We will send out a press release when those colors have been decided.
Reporter: How many Dorchester Day barbeques will you hit this Sunday?
Mayor Hurley: I am going to try to hit them all! I am looking forward to it. It looks like the weather, like this election, will be in our favor.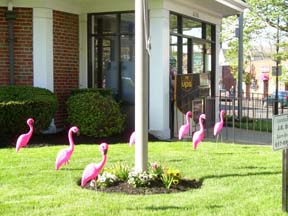 A Hurley flock at Meetinghouse BankReporter: How much money did you raise through your various events? How much of it was through the flockings?
Mayor Hurley: I raised about $4,500 so far. I wish I started the flocking earlier, which raised about $200-500 weekly. I would like to continue to raise money over the next year if that is okay with the Parade Committee. I have met so many wonderful people in the past six months and I cherish all those encounters.
Reporter: Did anybody actually not like being flocked and complain about it? If so, what is their address so we can hit their lawn every weekend this summer.
Mayor Hurley: I had a few interesting encounters. I have to give props to Port Norfolk. They have an excellent crime watch. I actually wasn't there that night, but I heard my flockers were questioned and their license plate numbers were taken down. Everything turned out okay. Definitely had a C-11 cruiser watching me when I flocked Meetinghouse Bank. I also made a few kids cry in taking them away from their yards, because they became playmates. All in all people loved it, and I feel that I engaged people and provided countless smiles and laughs.
Reporter: You even flocked someone on Cape Cod. Do you think that your mayoral powers should extend beyond our borders?
Mayor Hurley: Yes, flocking on the Cape was hilarious! A lot of Dot of people have houses there so I figured, why not? Borders will be crossed during my reign as mayor.
Reporter: West Roxbury recently elected their first-ever mayor, Richard Gormley, of the funeral home family. Do you think that you and Richard can co-exist in peace or is there a west coast-east coast feud brewing?
Mayor Hurley: I saw that and congratulate Richard Gormley. I think the East/West rivalry is dead and gone. As long as Richy knows that Dorchester is God's Country we can co-exist. I would love to team up with him and plan a fundraiser to benefit both of our communities.
Reporter: Are you going to run again?
Mayor Hurley: Re-election? I don't know if that's been done before or if it is possible, but it does sound like fun. I'll toss it up with my Cabinet and see if they are up for the challenge. In all seriousness, a lot of hard work and time goes into doing this. I thank my predecessors for all they have done for the parade and this community.
Extra special thanks to the Dorchester Day Parade Committee, Beantown Athletics, Blasi's Café, Ashmont Grill, Tommy Lee, Florian Hall, and Kristen Fox. I can't wait to see you all at the Parade, have a wonderful Dorchester Day!
Message from Patrick O'Brien, Deputy Mayor of Dorchester:
It has been a long, hard, exhausting, and wildly fun election season for Mayor of Dorchester. I had a wonderful time breaking into peoples' lawns to place flamingos all around the community (and who can forget all the phone banking, stand outs, and visits to the polls.) Katie is going to do a wonderful job as mayor, but should she, for whatever reason, be unable to fulfill her requirements, I am ready to take her spot. We are not here for a long time but we are here for a good time. I look forward to seeing everyone at the Parade, and wish you all a Happy Dorchester Day.