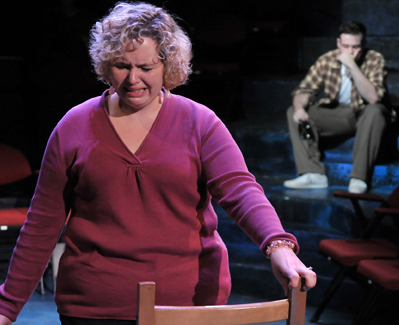 This weekend is your last chance to catch a quartet of actors from Dorchester who form part of the talented cast of "Splendor," just ending its world premiere run at the Boston Center for the Arts, Plaza Theatre.
Company One Theatre opened its 15th season with this the latest effort of Obie Award-winning playwright, Kirsten Greenidge, under the direction of C1 Artistic Director, Shawn LaCount.
Set in a fictitious suburb north of Boston, "Splendor" pieces together a mosaic of the lives of locals haunted by holiday nostalgia.
According to the review in the Boston Globe in this "ambitious take on race, class and gender… Greenidge samples the lives of 10 characters on Thanksgiving week at various times between 1965-2012. Her fictional Bellington is a familiar place, where random townspeople end up chatting awkwardly in line at Dunkies and the Foodmaster closes to become a Whole Foods. She also gets at subtler, underlying changes, like the way skin color may matter less now than what's in your wallet."
Among the multiracial ensemble are four Dot residents.
One of them is Greg Maraio, who portrays the friendly townie character, 'Dave.' He jokes, "I spent so much time and money getting rid of my Boston accent to become an actor, and now I'm unlearning all of my training to get it back!"
Nicole Prefontaine, a Dot native and Arts Director of Dorchester Academy, plays 'Lisa,' mother of six and Dave's outspoken daughter.
"As a someone who grew up in a neighborhood of Boston and lived most of my life here, I appreciate Kirsten's ability to explore some of the difficult issues of race, class, and culture that still challenge our communities and sometimes inhibit their ability to evolve and change," says Prefontaine, who is the niece of Cedar Grove's, Sr. Marie Prefontaine. "In general, this story, the place, and its characters all feel like home to me. Seeing and hearing those characters and being in that place is a comfort I have never experienced onstage before this play."
Critic Nancy Grossman on the Talkinbroadway website singles out these two Dot thespians for special praise. "
Greg Maraio is particularly impressive as Dave Murphy whose teenage son lost his life on a dare. He struggles to maintain a positive spirit, fueled by a little afternoon delight, Dunkin' Donuts coffee and snippets of conversation with strangers he meets in line. When his remedies fail him and Dave is crushed by the weight of his grief, Maraio's collapse is devastating and raw. As his daughter, Prefontaine channels her pain into biting cynicism, only letting her guard down briefly with her father."
Other local actors include Obehi Janice, a Dorchester-based playwright, performer, and teacher (who happens to play a teacher in the play!) and Mike Henry James Knowlton, yet another Dorchester native, who says he is honored to be a part of a premiere celebrating the beautiful complexity of our state's people and modern history.
Get details on remaining showtimes at companyone.org