By Tayla Holman, Reporter Correspondent
January 10, 2013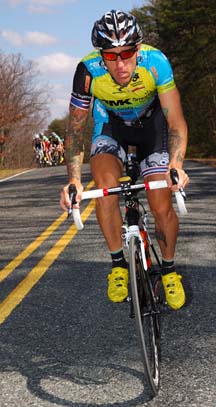 Adam Myerson: Professional cyclist and coach lives and loves Dot and the Red Line. Photo by Jon Safka/Cyclingphotos.ca"There are so many bad Boston tribute tattoos out there," says Adam Myerson, a 40-year-old Fields Corner resident who has adorned a large part of his leg with colorful scenes from the Dorchester leg of the Red Line.
Myerson, a professional cyclist and fitness coach, is the president of Cycle-Smart, Inc. He decided to get the tattoo last year and turned to an old friend, the owner of Fat Ram's Pumpkin Patch in Jamaica Plain. Ram helped Myerson flesh out the design of the tattoo— which was first brought to the wider public's attention last year through the popular website universalhub.com.
Myerson already had a lot of tattoos, but wanted a Boston tribute tattoo that was "less universal" and more tied into his experience. He didn't want to get a typical tribute such as a Red Sox or Bruins logo or the Boston skyline.
"And then I realized, I'm in love with the train," said Myerson who grew up in Brockton, but spent much of his time in high school riding his skateboard in Boston and taking the BAT bus to Ashmont to ride the train.
"Boston is a very big part of my identity. I am very much from Boston. I think my identity and my personality and worldview are very much wrapped up in being a Bostonian," he says. "I think where I'm from is sort of who I am."
Myerson attended UMass Amherst and lived in western Massachusetts for about 12 years. He moved back to Boston in 2003 and lived in Davis Square for two years. He then moved to Fields Corner and rented a condo until it became available for sale. He says Fields Corner was similar to where he grew up in Brockton.
"For all the challenges we have down here, it's a very comfortable place to me and I feel very much at home here," he says.
Myserson said the actual tattooing session took about four sessions of three to four hours each to complete. He said it wasn't in too painful a spot and that it was easy to brace himself.
Red Line Tribute TattooThe end result was a detailed tattoo that reflected who Myerson is and his pride in where he's from.
"I've always had an affinity for the subway, in particular the red line," he says. "That was my vehicle into the city and the way I had access to all the things that were out there and available to me in the world."
While observing these differences, Myerson came up with an idea for a tattoo that reflected his relationship with the city.
"They renovated the Fields Corner station, but they left up that really great old sign," he said. He started looking up photos of the old station, and developed an idea of what he wanted for a tattoo.
"It was really Ram who implemented the tattoo," Myerson says.
Myerson, who minored in African-American studies in college, said race, class and social issues "were a huge part" of how he experienced the world. He said while waiting for the Ashmont train, "you know it's different than getting on the Braintree train."
"I'm observing cultural differences watching who gets on what train. I ride the Ashmont train, and I think that means something."