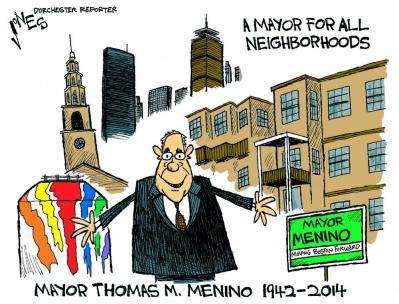 Thomas M. Menino, Mayor for All Neighborhoods
Mayor Thomas M. Menino died today at his home in Hyde Park after a battle with cancer. He was 71 years old. The Reporter looked back on the mayor's career and legacy in Dorchester earlier this year.- Editor
Related: Reporter editor/publisher Bill Forry discusses Mayor Menino's legacy on BNN-TV's Neighborhood Network News.
Those in a hurry to start blasting Tom Menino's name off signs and archways across this metropolis may want to find another, more meaningful pastime to while away their remaining days. Perhaps they could combine forces and finally get us a firm count on the grains of sand down at Savin Hill Beach.
Love him, like him, or loathe him – and a lot of folks in this neighborhood will probably land right in the middle when all is said and done – Tom Menino has left his permanent mark on Boston. And it's a legacy that will stand the test of time, no matter whose moniker gets stamped onto the city's street furniture over the next decade.
In Dorchester, Menino made some tough calls that, overall, have served our part of the city pretty well.
There were stumbles along the way. But his hands-on approach to governing the city's neighborhoods often took on a ministerial quality. He was as much a spiritual leader as a political one, relentlessly flying the flag of city government on far-flung and forlorn corners at times of both great gravity and relative slumber. He knew that showing up was at least half the battle and so he showed up. A lot.
Little Miss Dorchester 2009: Aisling Mannion, 8, with Mayor Tom Menino at the Parade of Seniors, JFK Library, May 21, 2009. Photo courtesy Mayor's office.Ribbon-cuttings, hockey tournaments, Dot Day cookouts, parish bazaars, Florian fundraisers, school assemblies, peace vigils and park clean-ups. There was nearly always a photographer in tow, but the mayor didn't just telegraph his popularity via press release or, later, social media. He saturated the city with himself, meeting people one by one, greeting each admirer with a 'Howaya' or 'How we doin'?
Early on in his tenure, Menino quickly disarmed former adversaries from the hard-fought 1993 contest that secured his first full term. Jim Brett had dominated his home neighborhood, naturally, but Menino shrewdly sought out Brett partisans and — by and large — won them over. His political allies came to dominate the ward committees and civic associations across the neighborhood — and in subsequent elections, Dorchester became a reliable base of support for Menino's re-election bids.
The mayor's political strength was buttressed by policies that resulted in tangible improvements locally.
On his watch, the city saw an overall decline in violent and serious crime through the mid-to-late 1990s. While other cities saw a similar drop-off, Menino's Boston was lauded as a national model for its emphasis on "community policing" and intervention tactics. And for those who lived through an incredibly violent 1990 – during which 152 people were slain – it would be hard to deny that things improved dramatically under Menino. His early tenure was particularly successful as the city went more than two years without a youth homicide between 1995 and 1997.
As to the Police Department overall, the mayor and his lieutenants struggled to maintain their early gains – and made little progress in moving officers of color into command positions – a critique that was roundly embraced in the campaign to succeed the mayor in 2013.
On the education front, Menino asked to be judged harshly on the success or failure of the school system. By his account, his tenure has been a success – pointing to higher pass rates on math exams and fewer drop-outs. There have been standout achievements, including the turnaround of Orchard Gardens in Roxbury. But he was slow to act on parental demands for changes to the city's frustrating assignment process. A revised system, cobbled together through a painstaking process that dragged into 2013, is just now coming online. It remains to be seen whether or not it will improve the assignment process.
The mayor's more clear-cut achievements can be found in other departments.
His signature neighborhood development program – Main Streets – helped business districts make strides in their curb appeal and attracted new and needed tenants. In particular, the program paid dividends in Fields Corner, St. Mark's Area, and Uphams Corner, where energetic individuals channeled their talents to good ends. It hasn't always taken root – the citywide program could use a review – but overall Menino's Main Street model has worked.
Critically, the mayor put the heft of his pulpit and the city treasury behind the Strand Theatre – a throwback gem that some still myopically see as nothing more than a money-pit. Give Menino credit: He broke the right way on the Strand and leaned in when less decisive leaders might have called it a day. He packed the theatre for two state of the city addresses to put his mouth where our money went. Menino's vision has given the Strand – and Uphams Corner – the leverage it needs to one day become a more vibrant destination. It can happen and when it does, Tom Menino will deserve a large portion of the praise.
Housing is another area where he is rightly credited with honchoing the creation of new housing in the city's inner core, fueling new business and tax bases and transforming the theatre district. But he also has directed thousands of new units of affordable housing through the Department of Neighborhood Development. The agency performed well under the direction of former Dorchester state Rep. Charlotte Golar Richie, the future mayoral contender whom Menino tapped to be his first chief of housing in 1999. She led successive campaigns to build on vacant city-owned lands. Her successors — faced with a crisis of foreclosed properties — teamed with community development corporations to reclaim abandoned homes.
Locally, Menino took a hands-on approach to the problem, walking Hendry Street when just about every other home was boarded up and empty. The street has since made a comeback thanks in part to his administration's efforts.
Rev. Loesch Family Park Ceremony: Formerly called Wainwright Park, the re-named park near Codman Square is one of many revitalized in the Menino era. Outdoor recreation programs also benefited from Menino's muscle. The city's public parks, playgrounds, and green spaces have been well cared for on his watch. Dorchester Park, for example, was transformed during his administration thanks to an outstanding partnership between the city's parks department and the all-volunteer friends group, with Menino often playing a key role behind the scenes in helping to get private funds lined up for the friends' group. The results have been transformative — and not only at Dorchester Park. Franklin Park, Harambee, Mother's Rest, Almont, Norfolk, both Ryan Playgrounds (River Street and Dot Ave.), Savin Hill, Town Field, King Street, Roberts Field have all seen significant upgrades and good maintenance during the Menino years. He did it better than his predecessor, and it will be a tough challenge for Dorchester stalwart Marty Walsh to do better.
Today's treasured public jewels can be tomorrow's public safety nightmares without careful stewardship and good management. Tom Menino got that just right.
The environment as an issue grew up greatly during the Menino era, and His Honor put Boston on the right track environmentally— or, as he told the Chamber of Commerce last month: "We turned  from Beantown to Greentown. We added twenty percent more green space. We shrunk our carbon footprint so much that it was like taking a city the size of Cambridge off the grid. In fact, this fall, Boston was named the number one energy efficient city in the country."
There are other Menino accomplishments that may not make the highlight reel for him or elsewhere, but are important with respect to Dorchester and Mattapan:
• After an initial miscue, he made the right call by keeping local library branches open, including the one in Lower Mills. The mayor certainly didn't like having his judgment challenged on the issue — but he was enough of a leader to recognize that public opinion and policy were aligned on the right side of the matter — and so he reversed course. It won't be a highlight of the biography, but the mayor's legacy is enhanced by his decision to listen to his own better angels and not the Boston Globe's editorial board.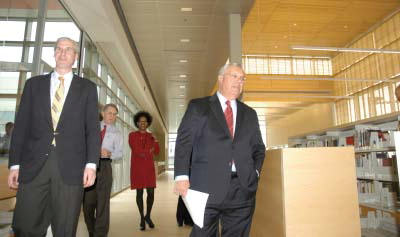 Mayor Tom Menino, right, took a tour of the new Mattapan branch of the Boston Public Library.: With Joe Mulligan, left, the Deputy Director of the city's Capital Construction division. Photo by Bill Forry .
The Mattapan branch library that Menino's administration built on Blue Hill Avenue surely is one of the finest new public buildings of the last decade.
• The mayor made timely investments to infrastructure in Peabody Square — using federal stimulus funding — that dovetailed nicely with the state's modernization of Ashmont Station and the private development of the Carruth Building. The result has been a dramatic improvement to that stretch of Dorchester Avenue. To the north, a roadway and signal improvement project re-designed several key intersections. While the avenue is still snarled at peak volume times, these improvements have generally made the roadway better for commuters. And it's certainly friendlier to pedestrians and bicyclists.
• Menino encouraged the development and expansion of South Bay Mall, which has been a good engine for commerce and jobs on Dorchester's northernmost border. He personally recruited the retail giant Target to build an anchor store there. He similarly facilitated the creation of the Mecca Mall in Grove Hall, which also saw a new library and community center built under the mayor's direction.
• Lastly, Tom Menino will be remembered for standing up early and often for gay rights — long before it was the political norm in these parts. His administration hired openly gay men and women for key roles throughout his tenure. Dorchester is a neighborhood in which the LGBT community is not only welcome, but also an essential, longstanding part of the civic fabric. It wasn't always so. The mayor's personal positions in favor of full citizenship for gay Bostonians should not be a minor footnote to his legacy. It was, and will remain, a major part of his record, and one to celebrate.