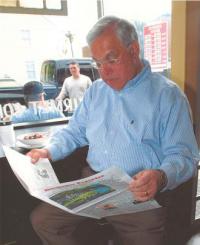 Mayor Menino reads the Reporter: Mayor Tom Menino gets his weekly dose of the Reporter at the Mud House, Neponset Ave., 2007. Photo courtesy Mayor's OfficeOn a cold Sunday morning in early March, I went up a hill and planted myself outside the Cedars of Lebanon Hall, a function facility in Jamaica Plain that straddles the border between Boston and Brookline. Inside, Mayor Tom Menino was having one of his annual neighborhood fundraisers.
Trying to stay warm, I stomped my feet and sipped on Dunkin' Donuts coffee as one of the police officers assigned to the mayor's security detail grabbed a bag of kosher salt and started to sprinkle fistfuls of it onto the icy sidewalk leading up to the hall. Inside, the women manning the table and the growing stack of contribution checks eyed me with unease.
The black SUV eventually rolled up and Menino, still on the mend from a variety of ailments, climbed out, steadily and slowly making his way down the sidewalk.
My plan was this: Stand outside, keep an eye out for any potential competitors, make note of who came in and out of the hall, and later in the day call up a couple of the attendees and press them for details of what went on inside. But as it turned out, there was no need for the plan; Menino spotted me and said, "Get in there."
District Attorney Dan Conley played the role of emcee and the receiving line was 40 people deep at times. Menino did not say that day whether or not he would be mounting a sixth mayoral campaign, but it felt like an early preview of a farewell tour. On the way out, one Menino acolyte said, matter-of-factly, "He's not running again."
***
The reporter and the mayorI started covering Menino in the middle of his fourth term. He was a mythic figure to me then, a person I knew mostly through the broadsheets and tabloids that my father, who spent most of his adult life in and out of the newspaper business, brought home.
But Menino is an everyday guy, a political junkie who knows the neighborhoods and who went from being an operative for Joseph Timilty and Jimmy Carter to the mayoralty of one of the nation's oldest cities. "He's built like a longshoreman, talks like a truck driver, and works like a mule," wrote the late Globe columnist David Nyhan the day after Menino was sworn in.
He has treasured the days he had in office, often working from 4:30 a.m. to 10 p.m. I remember leaving City Hall one evening, after a long day that was topped off by a City Council hearing, and there was the mayor, half-sitting in his SUV, with several Cabinet members standing around him. I was exhausted; the mayor was ebullient. It was around 6:30 p.m.
Menino has a deep hunger for information and a desire to keep his hand on the pulse of the neighborhoods. He had a network through his Office of Neighborhood Services, local liaisons who acted as human listening posts. He would check in with his police commissioner early in the morning to get a rundown on the previous night's violence. And when we would run into each other inside or outside of City Hall, he would always ask, "What's happening in Dorchester?"
During his tenure, Menino had a roller coaster relationship with the local press. "Both on and off the record, reporters and editors agree that Menino is generally accessible, and rarely freezes out reporters who've angered him," Dan Kennedy wrote in the Boston Phoenix in 1997. "Observers say that's a significant departure from [former mayor Ray] Flynn, whose appointment as US ambassador to the Vatican paved the way for Menino's ascension, and from Kevin White, mayor from 1968 to '83, who came from the don't-get-mad-get-even school of politics. Yet Menino's temper and notoriously thin skin, traits that are at odds with his easygoing, regular-guy persona, often come to the fore when the mayor sees a story he doesn't like."
The mayor was certainly a reader of the Dorchester Reporter: When there was an editorial or article that he didn't like, on a few occasions he let me know how he felt.
The now-defunct Phoenix had its annual Muzzle Awards, a yearly "round-up of outrages against free speech and personal liberties in New England." Menino was a frequent recipient, including in 2011, when he called on Niketown to remove allegedly offensive t-shirts from the front window of its Back Bay store. As a First Amendment absolutist, I had to roll my eyes.
***
In covering Tom Menino over the years, I came to realize that we had some things in common: We were both lower middle class as kids, we were obsessed with local politics, our names were mangled by our teachers, and neither of us was enamored with the idea of going to college. (Menino graduated from UMass Boston in 1988, when he was a Hyde Park city councillor and five years before he became mayor; I've attended UMass Boston but haven't finished yet.)
Marty Walsh, the incoming mayor, is similar to Menino in some respects despite them often being on opposite sides in the political battles that have roiled Dorchester. Walsh won the mayor's seat with a coalition of working class whites and communities of color, akin to the coalition that kept Menino in office for 20 years, as WBZ-TV's Jon Keller has noted.
Like Menino, Walsh finished school late in life, graduating from Boston College just a few years ago. And Walsh is accessible, displaying the same craving for information and political intelligence that animates Menino. And he is not shy about letting reporters know when he dislikes a story.
For all of his tug-of-war tournaments with the press, history is likely to be kind to Menino. He was a mayor of the neighborhoods who turned his attention to the downtown area and the so-called Innovation District without losing his focus on the streets outside the boundaries of Boston proper. In December 1997, after winning a second term unopposed, he appeared on C-SPAN. "I'm more of a lunch bucket guy, just [trying] to get the job done in the city of Boston," he said. It's fair to say that he did.