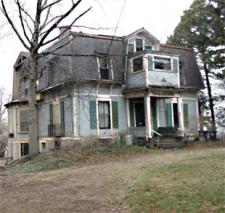 24 Grampian Way : Owners want permission to bulldoze the home and adjacent stable. The property is also under review to become a city landmark.
The owner of a historic Savin Hill house that could be soon designated as an official city landmark is seeking a permit to bulldoze the property instead. City officials will convene a community meeting on Thursday evening at the Dorchester Yacht Club to discuss the owner's proposal to raze the house and adjacent stable at 24 Grampian Way.
A meeting notice obtained by the Reporter today stated, "The purpose of the meeting is to inform the community about the proposed demolition and to present alternatives to the demolition."
The notice also makes it clear that Thursday's meeting "does not take the place" of a Boston Landmark Commission public hearing— which has yet to be scheduled— to further discuss a petition to make the Grampian Way property a city landmark."
The dilapidated conditions of the two buildings on the property have been a longstanding concern in this neighborhood of stately, Victorian-era homes. The current owner, Ray Tomasini, has enlisted political support to block a Landmarks designation, arguing that the restrictions that come with the status would make the site's rehabilitation cost prohibitive. But neighbors and preservationists have lobbied the city to preserve the property- pointing to its historic and architectural significance— a position supported by a report commissioned by the Landmarks Commission issued earlier this summer.
Howard Speicher, an attorney representing Ray Tomasini, declined to comment about the hearing and was not sure when his client applied for the demolition permit.
The home was once the residence of George Wright, a 19th century baseball celebrity and sporting goods businessman who has had a municipal golf course in Hyde Park named after him. The house also has associations with the 19th century oil merchant John Kehew and the industrialist William Prescott Hunt.
Thursday's meeting will take place at the Dorchester Yacht Club, located at 100 Playstead Rd. It begins at 6 p.m.