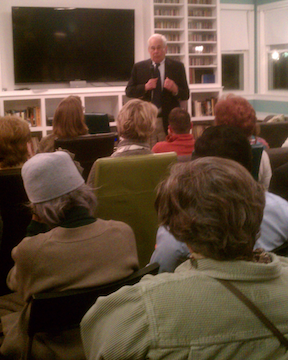 Dr. Donald BerwickJoyce Linehan's living room is quickly becoming a popular stop on the Bay State's campaign trail.
In August 2011, Elizabeth Warren jump-started her campaign there and snagged a US Senate seat 15 months later. And on Monday night, Linehan, a local activist who runs a public relations company, hosted a potential candidate for governor who has been dubbed the "Elizabeth Warren of health care" on a popular liberal blog.
Dr. Donald Berwick, who oversaw the Medicare and Medicaid programs for President Obama, met with about 60 Democrats at Linehan's home in Lower Mills, taking questions for over an hour on his potential gubernatorial agenda and his thoughts on Gov. Deval Patrick's tax hike proposal.
Berwick described Patrick's plan as "probably the right way to go," pointing to some "progressive" elements. The proposal includes raising the income tax to 6.25 percent, cutting the sales tax to 4.5 percent from 6.25 percent, and lifting the sales tax exemption on candy and soda. Beacon Hill lawmakers, who are crafting their own budget proposals, have greeted the plan with some wariness.
Speaking with the Reporter after taking questions from attendees, Berwick said he hasn't studied the plan in detail but "directionally, it seems right to me."
Berwick, who recently loaned his campaign $50,000, said he could not provide a timeline for a decision on whether he'll be jumping into the 2014 race. "I'm very serious about this listening piece," he said.
Berwick was greeted warmly at Linehan's home, receiving a standing ovation at the end of his talk. He spoke briefly of his upbringing as the son of a doctor in a small town in Connecticut and his time as the head of the Centers for Medicare and Medicaid Services (CMS).
One Democratic Party activist pressed him on how he plans to run a statewide campaign. "I know I've got a lot to learn," Berwick said. "I'm a pediatrician."
With Gov. Deval Patrick declining to run for a third term and Lt. Gov. Timothy Murray saying he won't seek the job, the 2014 race for governor is considered wide open. Treasurer Steven Grossman, who has chaired the state and national Democratic Party committees, has expressed interest in the race. Congressman Michael Capuano (D-Somerville) is another possible candidate. On the Republican side, former US Sen. Scott Brown and 2010 gubernatorial candidate Charlie Baker could be contenders.
Asked about priorities, Berwick listed investing in universal health care, children's health and education, and energy and the environment. The pediatrician, who said he had twice rejected the prospect of taking the CMS job before finally accepting it, was blocked by Republicans from keeping his job and stepped down in 2011. With Washington "stuck," he said he was drawn to Massachusetts, where the health care reform law that eventually would lead to the national version, known as "Obamacare," was born six years ago. "I've seen what this state can do," Berwick said. "This is a state that can execute."
John Berg, a Suffolk University political science professor who attended Berwick's talk, said he is interested in hearing him speak to a more general audience, beyond liberal Democrats. But he added that Berwick, more of a political outsider than even Patrick was when he first ran in 2006, seemed to be "very good at relating" to people. "This is a good start," Berg said.
State Reps. Linda Dorcena Forry and Russell Holmes also attended the talk. "He seems to be thorough," Holmes said. "I think he'll be one of the strong progressive candidates on the list."
Linehan, a Democrat who pushed for Warren to wade into the Senate race, said she hasn't decided whom to back in the 2014 race for governor, adding that her door is open to any "progressive" candidate who wants to come and talk.
After Berwick appeared on New England Cable News last month, Linehan expressed curiosity about his candidacy on the social networking site Twitter. Ten minutes later, Berwick called her and they eventually set up the Monday night talk.

Endorsement Corner: Unions begin endorsing choices for state Senate
Unions are starting to wade into the special state Senate election, with two locals announcing the candidates they intend to back: Carpenters Local 67 said last Wednesday that they are endorsing Rep. Forry while Laborers Local 223 is endorsing Rep. Nick Collins.
"We've got a much longer history of working with Linda," said Chris Shannon, council representative for Carpenters Local 67 and the New England Regional Council of Carpenters. The local endorsed Forry when she ran for 12th Suffolk state representative in 2005, he said.
Laborers Local 223 endorsed Collins when he ran for Fourth Suffolk state representative in 2010. "He has fought every day for us and for the working people of his district," Martin Walsh, the business manager for Local 223, said in a statement earlier this week. "There is no one in this race we'd rather support than Nick."
Walsh is the cousin of state Rep. Marty Walsh, a Dorchester Democrat who is staying neutral in the race. Rep. Forry is the wife of Reporter publisher and editor Bill Forry.
The primary for the special election, created by the departure of former state Sen. Jack Hart (D-South Boston), is scheduled for April 30. South Boston native Maureen Dahill, a Democrat, is also running.

Wu hires workers for at-large campaign
Dan Murphy, an alumnus of US Sen. Warren's 2012 campaign who also worked as a deputy press secretary on Congressman Michael Capuano's Senate run in 2009, has signed on as campaign manager of South Ender Michelle Wu's City Council bid.
Rachel Schwarzman, who worked on Joseph Kearns Goodwin's unsuccessful state Senate campaign, is Wu's finance director, the campaign said Tuesday.
Murphy, an Emerson College graduate, was a political consultant to Sen. Warren. Wu, who also worked on Warren's campaign, announced in December that she would be throwing her hat into the City Council At-Large ring.
The four incumbents – Stephen Murphy, Ayanna Pressley, John Connolly and Felix Arroyo – are up for reelection this year.
Wu has raised over $48,000 so far, the campaign said in the release announcing the hires.
EDITOR'S NOTE: Check out updates to Boston's political scene at The Lit Drop, located at dotnews.com/litdrop. Email us at newseditor@dotnews.com and follow us on Twitter: @LitDrop and @gintautasd.