By Brianna MacGregor, Special to the Reporter
August 8, 2013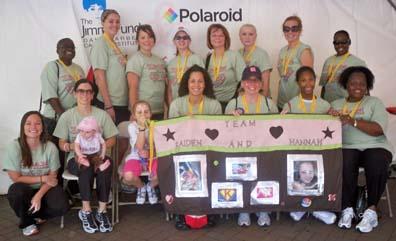 For some parents, the biggest hurdles to overcome with a newborn child are diaper changes and sleep-deprived nights. For others, like Kate Audette and Evon Burroughs, the challenges are far more difficult to overcome.
When their son Kaiden was only 8 months old, he was diagnosed with medulloblastoma, an aggressive, cancerous brain tumor.
"Everything went blank," Audette said of the moment they heard the diagnosis. "There is no way to comprehend that your 8 month old has cancer."
Kaiden Burroughs: Passed away at age 16 months old. Kaiden lost his battle with cancer when he was just 16 months old, but his family continues to fight for a cure. To commemorate what would have been Kaiden's tenth birthday this year, Audette hopes to raise ten thousand dollars for the Jimmy Fund walk this year as a member of Team Kaiden, a group of family and friends walking in Kaiden's memory.
On September 8, Audette and the rest of the team will join an expected 8,500 people on the Boston Marathon Jimmy Fund Walk.
To raise funds for the walk, Audette is hosting a fundraiser on Saturday, August 10 from 8-11 p.m. at the Savin Bar and Kitchen on Savin Hill Avenue in Dorchester, with dancing until 1 a.m. Guests who arrive before 10:30 pm will be entered to win door prizes that include gift cards to local restaurants and spas, and all funds raised will go directly to the Jimmy Fund.
Audette called it the "culminating event" before the walk, and she hopes that it puts Team Kaiden at or near their ten thousand dollar goal.When they first met in early 2013, Beach knew that Audette was something special, and describes her as a person with "the positive aspects of humanity in her every cell."
"She understands how to motivate and move people, and how to share her story without asking for pity," Beach said. "There's a lot about this walk that is forward-looking, and finds hope in difficult situations. Kate is passionately committed to making certain that no other mother has to face what she did."
Though Kaiden's short life was plagued by grueling surgeries and intensive chemotherapy, Audette refuses to let the illness alone define her son's legacy.
She speaks of the friends he made in the hospital, including his best friend Hannah, who is now entering her ninth year in remission from medulloblastoma. Audette keeps in contact with Hannah's family, and is walking in her name, as well as her campers from Camp Sunshine in Casco, Maine, who are battling life-threatening illnesses.
For Audette, it's all about giving back. She mentions the support she received from the doctors and nurses who treated Kaiden - she calls Dana-Farber Cancer Institute "the most amazing place I hope people never have to visit" - as well as the professors who made it possible for her to continue her education through Kaiden's illness.
After obtaining her master's degree in social work from Salem State University, Audette now works as a health policy analyst in Dorchester. "I want to make sure all of our patients at Harbor Health Services get access to care, regardless of their ability to pay. When Kaiden was ill, his father and I were two struggling college students who were able to go to two of the top medical institutes in the world," she said. "It's important to me to make sure everyone has access to the same exceptional care we received. Access to health care should be a right, not a privilege."
Audette now lives in Ashmont, and said that Dorchester "feels like home."
"People have been hearing my story, and they've been incredibly supportive," she said.
For this year's walk, Audette is excited to tackle the full 26.2-mile route for the first time. This walk is important to Audette because she wants other families to have the same access to the world-renowned care offered by Dana-Farber.
"Others came before us to ensure that Dana Farber was there when we needed it. Now, I feel it is my responsibility to help ensure that families who face the same challenges we did have the same support," she said. "This is my way of giving back and carrying on Kaiden's legacy."