By Chris Harding, Special to the Reporter
June 27, 2013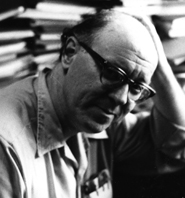 If Cid Corman were still alive, he would turn 89 this Saturday.
"Cid who?"
Like Edgar Allan Poe before him, Corman was a Boston-born author who was largely ignored in his home town, but who had world-wide literary impact.
The super-prolific Corman is credited with 524 works in 745 publications in 11 languages and 11,536 library holdings. As a poet, translator and editor of Origin, a seminal poetry magazine, he is acknowledged as a key figure in the history of American verse in the second half of the last century. Maybe some folks would show more interest if they believed the claim of this tireless Jewish guy from Dorchester that he invented rap.
Born Sidney Corman in Roxbury of Ukraine parents on June 29, 1924, he spent his childhood and young adulthood in the Fields Corner area, a Dorchester village which he loved, but which apparently didn't love him.
He once wrote, "Boston has famously been — from the start — least interested in me. The West Coast picked me up much more — and New Zealand /Australia, etc."
The Boston of his youth was "the most anti-Semitic city in the nation" according to Nat Hentoff, Corman's Boston Latin classmate, lifelong friend (and celebrated civil libertarian and jazz and country music critic for the Wall Street Journal).
In the late 40s Hentoff, who had two jazz programs on Boston radio station WMEX, on which he helped Corman start the country's first poetry radio program. The Saturday evening This Is Poetry broadcasts, only 15-minutes long, featured readings by Robert Creeley, Theodore Roethke, Stephen Spender, and many other Boston-based and visiting poets. About this time Corman started spelling his first name more alliteratively as "Cid."
The first 20 issues (Spring 1951-Winter 1957) of Origin, the publication that introduced to the world great poets like Creeley, Denise Levertov, and Gary Snyder were mailed out from the still-standing Corman family home at 51 Jones Avenue.
In 1958, he got a teaching job in Japan, where he lived on and off with his Japanese newscaster wife until his death in Kyoto in 2004.
Corman was never shy about boasting, "I'm the first person to organize poetry groups.... Before I left Boston, I had three groups going simultaneously -- of course no money involved, nor was there any for the radio show. They had to come, usually, and pick me up by car, because I didn't have any money for travel. I'm probably the only person you'll ever know that from the age of 21 to 30 never earned a penny."
He also claimed to have invented of "oral poetry."
"I'm really the inventor of rap because I started improvising poetry in '54 in Paris. And what passes as rap is not really improvised poetry, because it's all plotted in advance: they don't know the exact words maybe but they know very well what they want to say. When I do my oral poetry, I make a point of having no idea, not the least idea, what I'm going to say: and what I say speaks from my core to the core of others."
Admirers who failed tried to convince UMass Boston to set up a Cid Corman poetry room, did manage to donate a complete set of his works to the Healey Library special collections.
Though he's not listed yet on the Dorchester Atheneum website among the approved Dot authors, Corman has had a far great influence and publication history than anyone on the list except maybe Dennis Lehane. Here are samples of his Japanese-influenced verse:
At day's end
child asleep
in his arms
he steps light --
her bonnet
on his head.
"The Offerings"
Too many things on the altar.
A petal would do.
Or the ant that stops for a moment at it.