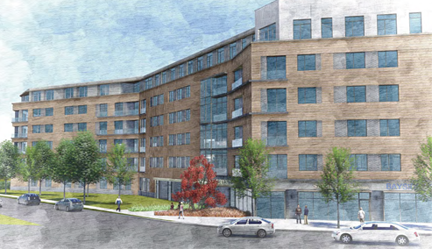 A proposal to build 184 units on Columbia Point aimed at young professionals has received the go-ahead from the Boston Redevelopment Authority, the city's planning and development agency. The project is just one of several developments planned for a neighborhood that has been often seen as separated from the rest of Dorchester, in part due to the Southeast Expressway cutting through it.
The "University Place Residences" project, at the corner where Day Boulevard and Mt. Vernon Street meet, will reach six stories, the same level as the office building next to it, and include a mix of housing: 67 studio apartments, 73 one-bedroom apartments, and 44 two-bedroom apartments. There will be 24 affordable housing units.
Corcoran Jennison Companies, which owns the land and the office complex, put together the proposal and is unaffiliated with UMass Boston, which is going to be building dorms and new academic buildings on nearby sites over the next few years.
The office building, known as the Bayside Office Center after the defunct exposition hall that was bought by UMass Boston in 2010, will be renamed "University Place Office Center."
Many of the apartments are expected to have views of downtown Boston, Dorchester Bay, and Moakley Park in South Boston. There will be an indoor and outdoor clubhouse on the sixth floor, according to an April 2013 planning document submitted to the BRA. Retail space has been set aside for the ground floor, which will feature a mix of studio units and one- and two-bedroom apartments, as well as a leasing office, a conference room, an exercise facility, and common areas.
The building is partly located in a 100-year flood plain, so the site will be elevated to some degree by fill in anticipation of sea levels rising, the April 2013 document noted.
Construction is expected to last 18 months, starting this October and finishing in March 2015, although workers have already started digging up the parking lot that the building will largely replace. The new building will offer 76 underground parking spaces and will be steps away from the JFK/UMass MBTA station, an eight-story Doubletree Hotel, and a State Police barracks.
– REPORTER STAFF