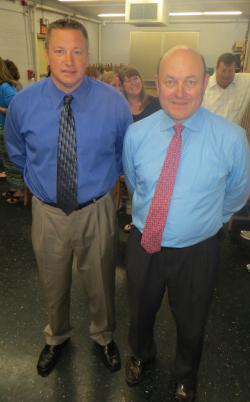 Adams Village Business Association Honorees: Det. Steve Charbonnier, left, and Tom CifrinoA Boston Police detective with deep roots in Dorchester and a businessman who is making a big investment in the neighborhood's future are being recognized this week by the Adams Village Business Association. Detective Steve Charbonnier and Tom Cifrino, president of Supreme Realty Trust, were scheduled to receive their honors at the association's June meeting, held on Wednesday evening at the Adams Street Library. Mary Kelly, the president of the association, said that the honorees are seen as leaders in Adams Village, each in his own way.
Charbonnier, who was a patrolman in Dorchester's Area C-11 for much of his career prior to his promotion to detective in 2011, is valued as much for his philanthropy as he is for his service as a cop. In recent years, Charbonnier, 44, has been the key administrator of the memorial fund named for his brother, Mark S. Charbonnier, a Massachusetts state trooper who was killed in the line of duty on Route 3 in Kingston in 1994.
The late trooper's family, friends, and colleagues have raised hundreds of thousands of dollars in the last two decades in Mark's memory, much of it through an annual golf tournament that Detective Charbonnier now organizes. The event – normally held in the early summer – is scheduled for September this year to coincide with the 20th anniversary of Mark's passing.
Funds raised through the tournaments – and by an annual road race, Charbo's Run, that ended after ten years – continue to assist Dorchester families in ways large and small.
"The work that Detective Charbonnier does through his brother's foundation has helped a lot of people in this neighborhood— and a lot of it goes under the radar," said Captain Richard Sexton, who commands the C-11 police district.
Scholarships are in place in Charbonnier's name at Wentworth College, New England School of Law, Boston College High School, Catholic Memorial, St. Brendan's school, and Pope John Paul II Catholic Academy-Neponset. The fund has also made scores of smaller donations to Dorchester families hit by unforeseen trouble— such a cancer and serious accidents.
Det. Steve CharbonnierDetective Charbonnier, meanwhile, spends much of his professional time focused on policing Dorchester's streets, investigating the gamut of crimes that occur here. He hails from a family of public servants. His dad was a Boston police officer and his brothers Al and Bobby also serve on the Boston force. Steve joined the department in 1999.
"My father started the ball rolling. He was a policeman for 35 years and he would have kept working if they had let him. Seeing him come in every day from work, my friends and I respected police officers. I wanted to be a policeman."
Charbonnier often starts his day in Adams Corner.
"I'm down there every day. In the mornings we have our coffe in Adams Corner and people don't have to call 911 to get me. They give me a buzz or stop me on the street. I do take pride in that, having grown up on Bowdoin Street. It was a great place to live. It's nice to see new people coming in and raising families, especially in and around Adams Corner and St. Ann's. There's a tremendous amount of young police and firefighters raising their families here. I just love it; it's home for me."
Tom Cifrino is a reluctant recipient of the award who has nonetheless been the key figure in rebuilding the parking lot behind his family-owned building at 540 Gallivan Boulevard. The building, which also houses the specialty apparel business College Hype and Cifrino's own Supreme Liquors, is now being renovated by Boston Sports Club, which is set to open in September.
"Tom Cifrino is being recognized for recent upgrades made to the parking lot and for securing the Boston Sports Club as a new tenant for the old Rite Aid building," said Mary Kelly. "The renovations to the parking lot and the building will result in the biggest face-lift the Village has seen in over 40 years. The Business Association is looking forward to welcoming club employees and members who will be introduced to all of the products and services offered by local businesses."
Cifrino said he was humbled by the award, but emphasized that the work he's honchoed to improve the parking lot's layout and security is something that has been driven by the community's advocacy. "We did the work because it needed to get done," said Cifrino, who highlighted the installation of a grid of security cameras, an investment of some $85,000 by Supreme Realty Company. The cameras will be operational as soon as next week.
"It's really something that the Cedar Grove Civic Association asked for. There are 32 cameras out there now and all the cabling is underground. It's one of the good things we can do for the neighborhood."
The parking lot, which was dearly in need of rehabilitation, has been fully reconstructed over the last year. It is now striped and has a second coat of asphalt.
"It's completely finished," said Cifrino.
Cifrino will next turn his attention to renovating the Supreme Liquor stores that are owned and managed by his company. Plans for the store on Gallivan Boulevard — which will include an expansion to a second level— were first shown to members of the Cedar Grove Civic Association at its meeting earlier this month. The reception was very positive.
Cifrino says that Adams Corner is ready for such a change in the market. "Central Square is a very similar neighborhood, with people who work for a living, but make a decent wage and want to have the options to go out two nights a week for dinner, or to buy a very nice bottle of wine. I think Adams Corner is the same kind of neighborhood."