By Kimberley Theodore, Special to the Reporter
August 14, 2014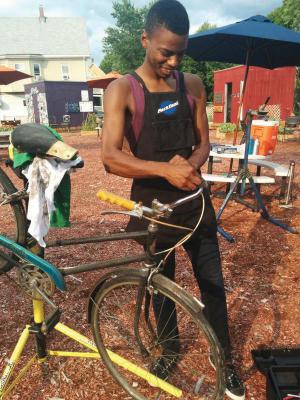 Noah Hicks, 28, worked on a bike at his Bowdoin Street repair shop.
Noah Hicks, a lifelong resident of Blakeville Street, refers to himself as "The Bike Builder."
Hicks, 28, grew up with four brothers and they often rode their bikes together around their Bowdoin-Geneva neighborhood. With a house full of boys, his parents encouraged their kids to be active. They too owned and rode bikes.
Hicks outgrew bicycling as he got older, but he returned to it in his early 20's as it became an affordable alternative to public transportation or cars.
"My thing is I was pretty broke so I ended up just experimenting on how to save myself a few dollars and fix a bike I bought that was in God-awful shape. By doing that, I was able to safe myself a few dollars," said Hicks.
 Hicks then started flipping bikes, buying used bikes and throwing his own personal touch to his creations, realizing that he could make 3 or 4 more times what he had spent. 
"I started selling bikes for income and that was huge for me," said Hicks.
Last summer, Hicks put his skills and experience to the test, setting up a bike shop within the Bowdoin-Geneva Community Hub— a shared space at 191 Bowdoin St. Hicks set up the business with the help of the Sustainability Guild, a social enterprise outfit that helps budding entrepreneurs.
With an investment of $100— and his own tools— Hicks started working with neighbors at the site, teaching them how to repair and upgrade their own bicycles.
"One huge priority of mine was making sure [the bike shop] had baskets and racks for the bicycles. We even have a couple of trailers for children, so people who wanted to move towards a car free lifestyle or even a bus free lifestyle could have that option and a way to carry things around as they traveled," said Hicks.
"Seeing somebody ride off on first bicycle that we were able build was an accomplishing feeling," said Hicks.
 Hicks launched a fundraising campaign on Indiegogo.com in hopes of bringing a bike repair school to the Dorchester community. He wanted to offer cycling classes and tutorials and with the contributions from the City of Boston Hicks was able to raise $7,025 dollars.
Bowdoin Geneva Main Streets Director Gene Gorman says that the bike shop's footprint is small, but it "has such an enormous, incredible impact because it affects so many people."
"There's an incredible relationship in his mind between the economics and the entrepreneurial aspects of opening a brick and mortar shop in Bowdoin Street area and the philanthropic and educational arm that his school serves in the community," Gorman said.Since setting up the bike repair school, Hicks has been involved in many cycling events with organizations such as DotBike, Bikes Not Bombs and the Dorchester Community Food Co-op and the Sustainability Guild.
"Seeing people and families go on biking events together gives me hope and reassurance for the future in cycling. This is possible, this is easy, this is accessible, and this should be taken to its full advantage," said Hicks.
Looking ahead, Hicks would like to work with some local organizations and expand the work he is doing at the Hub.
"I'm so on fire for this, and this is something I'm so passionate about. I want to share that passion with this community and hope that it impacts on other communities to do the same," said Hicks.
"If somebody comes over with like a flat tire, I can now ask a young person who has the skills to help that person and fix that problem. They've learned that here and that is a tremendous source of pride for me," said Hicks.
 "I'd like to see Bowdoin-Geneva become a hub of family biking or subsistence biking with folks who are biking to survive like I was. That's the kind of world I want to see."
 Hicks' Bowdoin-Geneva Bike Shop is open Tuesdays and Thursdays from 4 p.m. to 7 p.m. and Saturdays 1 p.m. to 7 p.m. For more  information check him out on Twitter @Bowdoinbikes.