By Lauren Dezenski
November 6, 2014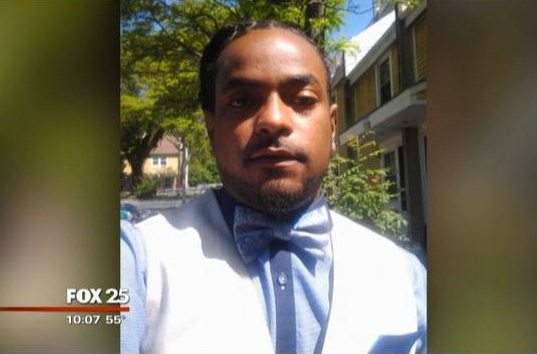 Family members of the 30-year-old man shot in Lower Mills on Tuesday evening are searching for answers.
Keldon Liverpool was shot in the head outside of the CVS on Dorchester Avenue and River Street just before 5 p.m. on Tuesday–yards from the Lower Mills Library, a busy polling location. Liverpool was rushed to Boston Medical Center where he remains as of Thursday morning in serious condition. The homicide unit was called to the scene to investigate as police canvassed the darkened parking lot looking for evidence.
Police are still searching for a suspect as Liverpool's family members, including his older brother Jason, ask for the public's help.
"We're two years apart and closer than anything. I just don't know what's going on. Maybe he made a mistake, I don't know. I just hope whoever did this comes forward," Liverpool's older brother Jason Liverpool told the Reporter.
Keldon and Jason immigrated to the United States from Trinidad and Tobago 11 years ago. In an interview, Jason, 32, said he is struggling to understand the events of Tuesday night.
Jason said his brother was walking home from work as he always does and was just around the corner from his home on River Street when he was gunned down. Jason and Keldon co-own 3 Sons Flooring in Mattapan.
"We stay close [to home]. We just work and come home, work and come home," Jason said. "And if he's not at home or at work he's on the basketball court with his son."
Keldon is a father of three. According to Keldon's Facebook page, he and his wife Ezra got married on May 13.
"For something like this to happen to him is killing the whole family," Jason said. "He doesn't rob or steal or lie, he wasn't raised like that."
Boston Police Homicide Sergeant Detective Mike Devane told Fox 25 News, "We believe he was just a random thing. At this stage of the investigation, we don't believe anyone was targeting him in any way. Or that there was any kind of confrontation with him."
There were no suspects in the shooting as of Wednesday morning, Boston police said.
Anyone with information is asked to contact the Boston Police tip line at 1-800-494-8477 or text "TIP" to 27463 to anonymously report a tip.