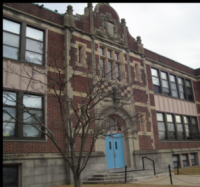 Lower Mills campus of Pope John Paul II Catholic Academy: Formerly known as St. Gregory's Elementary School, will be renovated this summer.Middle school students from the Mattapan campus of Pope John Paul II Catholic Academy will attend classes at the Lower Mills campus next fall as the school system seeks to open up more space for pre-kindergarten seats in Mattapan. The move comes as long-awaited renovations to the former St. Gregory's campus are set to begin this year— adding new amenities to the Dorchester Ave. campus that will be geared towards middle schoolers.
"In order to provide the best education for all students there are several changes we need to make for the 7th and 8th graders. Starting in September, our 7th and 8th graders at the Mattapan campus will attend classes at the Lower Mills campus," said Sister Ellen Powers, CSJ, Regional Director of the academy, in a letter to parents issued this week.
Powers noted that planned renovations at the Lower Mills facility will include "a new science lab, a media/resource center, new lockers, new classroom furniture, and the gymnasium." "Students [at the Lower Mills campus] will interact with more middle school students since classes will be larger and this will provide a very good experience for high school preparation," Powers wrote. According to Powers, transportation to and from the Mattapan building on Babson Street to Lower Mills will be provided.
A meeting for parents of 6th and 7th grade students will be held at the Mattapan campus on Thurs., Feb. 6 at 6 p.m. to further explain the changes.
Sr. Powers told the Reporter that the decision is prompted mainly by an Academy-wide strategy to open up more pre-K seats in the next academic year. A pilot program for students as young as 2.9 that was piloted at the Columbia campus this year has been "very successful," Powers said.
"We will open those at the other three campuses in the fall," Powers said. "That seems to be where the need is."
Details about the renovations to the Lower Mills campus have not yet been finalized, she said. However, construction work is expected to begin in late spring.
"It's a pretty substantial renovation," said Pope John Paul II Catholic Academy trustee Jim Walsh. "It's a beautiful building and it's been well cared for over the years. This work will really bring it up to the latest codes and technology."