Just after noon on July 20, 2014, as Donnie Palmer walked out the doorway of his sister's Fields Corner three-decker and onto a small porch, he spotted a Black Toyota lurking down the block. Yeah, he thought, it could very well be the same dude whom he had punched out earlier that morning. If so, Palmer had no delusions about what would happen next.
"In my mind, I already knew I was going to get shot," said Palmer, who nonetheless kept moving toward the street. Sure enough, a figure quickly emerged from the parked car. "What's up!" shouted Palmer, thrusting his palms up with the universal invitation for "Bring it."
Palmer, a 31-year-old Codman Square native and US Army veteran, is six-foot-ten. He weighs 250 pounds, and sometimes more, and packs a vicious left hook. He is an undefeated professional boxer who likes to be called "Big Nasty" and he will tell you without pause or qualification that he's a future world champion.
But on that afternoon last summer, he found out that none of his training and bravado could stop a bullet from tearing his life apart.
As he turned to face his foe, his most dangerous opponent to date unloaded with eight rounds from a .38 special. One of the early rounds pierced Palmer's long torso and sent him hurtling onto the Park Street sidewalk.
"My Army training kicked in," he said in an interview with the Reporter. "I just started rolling around on the ground, kept moving, trying to dodge the rest of the shots. He just kept firing and then click. He was out. Dude just peeled off."
Palmer somehow managed to avoid a second wound, but the bullet he took did serious internal damage as it entered through his stomach, ripped through his colon, and exited through his buttocks, severing nerves to his leg along the way.
As he lay on the sidewalk, his mind raced. Even though he'd had an "intuition" that bullets might fly, he couldn't believe that he'd actually been shot. "I was just hoping that I would see my mom again," Palmer said. "I was thinking a whole lot about who would be at my funeral, if my ex-wife would come, and which friends would show up. I was hoping I would have a big funeral."
Donnie Palmer in hospital bed at Boston Medical CenterEmergency medical technicians got to him quickly and transported him to Boston Medical Center where doctors and nurses stabilized him and surgeons moved quickly to reconstruct the colon. "Those guys are amazing. They saved my life," he said.
He was out of the hospital within two-and-a-half weeks. The stay was miserable and, cooped up, anxious, he didn't help the situation by refusing to choke down pain meds that he felt would further debilitate him. In short, he was not a model patient.
"I left early. I was fighting with the nurses and doctors all the time. I was hurt. I thought I would never box or maybe even walk again," said Palmer. "They had to give me my own room. I had been six days away from the biggest fight of my career when this happened to me. That fight would have put me in the top 50. I was going for a 10-0 year. It was a five-figure fight for me. Then, I got shot."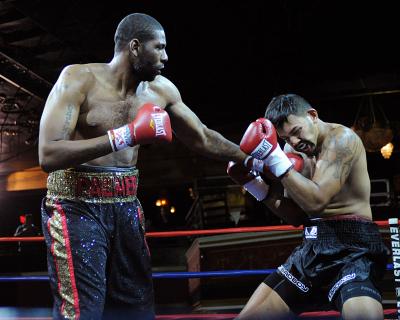 Donnie Palmer v. Aneudy Rodriguez: Donnie Palmer notched his first professional win— a third round knockout of Aneudy Rodriguez in September 2013. His professional record is currently 5-0 with one draw. He has knocked out his last four opponents. Photo by Emily Harney
Until recently, Donnie Palmer did not fit easily into the stereotypical hard-luck story. He was born into a family on Codman Square's Aspinwall Road where he lived with his mother, father and two siblings. The family later moved to the South End. Palmer attended the Dearborn School in Roxbury and was recruited by the basketball coach at the Brooks School, an elite boarding academy in North Andover. He was a standout player, earning All-American plaudits as a senior by averaging 27 points and 18 rebounds a game. But he struggled academically and finished his senior year back home at Boston English High.
Still, Palmer's "one-percent" experience outside the city was a ticket to college, namely, the University of Colorado at Colorado Springs. He played basketball and rowed crew. But boxing caught his eye in 2005 when he watched a World Boxing Association championship bout between favorite Johnny Ruiz and the seven-foot-tall Russian Nikolai Valuev, who beat Ruiz to win the title and a multi-million dollar purse.
Donnie Palmer at the Grealish Boxing Gym on East Cottage Street, 2009: Photo by Pete StidmanAt age 22 and back home in Boston, Palmer linked up with the Grealish Boxing Club, which was then housed in an old box company warehouse on East Cottage Street. The Reporter first wrote about him in 2009 when he was already hyping himself like a pro, even though he was still learning the sport. "I want to be the best boxer ever at my weight class. I want people to talk about me like they talk about Ali," Palmer said at the time. He had quickly put some meat on those young bones. Training with Martin Grealish, he won the Golden Gloves, the Northeastern Regionals, and the Tournament of Champions in 2008.
The next year, he enlisted in the Army and trained with US Olympic coaches; he was intent on making the team for the 2012 Games. Palmer lost his ticket to London by losing a judge's decision to another super-heavyweight boxer, Owen Minor, in an outcome that he still disputes. Overall, he amassed an impressive 74-11 record as an amateur. When he lost his spot on the USA team, he decided on the spot that he would turn professional when he returned to Boston.
His wife at the time encouraged him to pursue a job as a para-professional working with special needs kids in the Boston Public Schools. This year, he is working with a classroom of kindergartners at a Dorchester elementary school.
"I sacrificed so much time honing my skills to be great," Palmer said. "I had to find a job to support my lifestyle, my habit. Boxing is my lifestyle, but it pays only a little bit, at least right now. I'm just sacrificing right now. Hopefully after the end of this there'll be a reward."
That reward seemed a lot closer last summer, before the shooting. After his first pro fight in July 2012 at Mohegan Sun ended in a draw with Moses Marshall, Palmer had notched four consecutive knockouts wins. The most recent victory, over John Orr at Twin Rivers Casino last June, was considered an easy warm-up fight.
WATCH: Donnie Palmer defeats Solomon Maye in Nov. 2013 at Foxwoods
Palmer had drawn a team of trainers, including the highly regarded Irish fighter Sean Mannion, to his side and was getting groomed for bigger, better bouts. L.J. Harrington, Palmer's former high school coach at Brooks and a longtime friend, financed some of Palmer's pro fights, including the July 26 bout that was cancelled after the shooting.
"We were in pretty good shape [before the shooting]," said Harrington. "He's appealing in a lot of different ways and this fight would have been a big step for all of us." The shooting, he added, was "a setback. Because of his age, he's in such a critical window here. The margin for error is getting smaller and smaller."
•••
It was August when Donnie Palmer made his return to the Dorchester Boxing Club, a second-story gym tucked next to a trash transfer station in an industrial park one block away from where he was shot on July 20.  He'd been out of the hospital for only three days. But he couldn't stay away any longer.
Louis Santiago, a trainer at the DBC who worked with Palmer both before and after the shooting, said he cried for three days when the boxer was shot. He thought it was probably the end of the road for him as a fighter. But Santiago wasn't surprised to see him back. "He couldn't train but he wanted to do sit-ups, and he was in a lot of pain. But the kid don't play.
"It was a big day for me, too, to get to work with a heavyweight," said Santiago. "I was happy he was okay, but now to see him back in here… His body has healed in a way that's just incredible to me. I see him as special. He has something to prove."
Donnie Palmer worked out at Dorchester Boxing Club, Dec. 22, 2014Palmer said his doctor cleared him to train again, but warned him that it would be an ordeal. "He told me that I had made a full recovery and told me that I could start training in September. I just embraced the pain."
By last week, he was simulating four-round fights with sparring partners and working on his game plan. He is still battling through the pain, but he says that has become part of his everyday drill. But he's encouraged by the progress he has seen in the two months since he started training more vigorously. He's spending four hours a day in the gym – and swimming to improve his strength.
"When I started training again in October, it was really just hitting the bag and walking," Palmer said. "Just getting out of bed was a feat for me. I'll probably never walk the same again. When the bullet came out it damaged nerves in my right leg. I had to build those up again. I have to wear certain Under Armor stretch pants when I train. I know it's not going to hurt any more than it already does," he added. "It'll hurt just about the same every time."
"I think he's ready to fight," said Santiago. "Donnie can take punches. I'm hoping he can get someone who can fight [in January]. He's at a high level."
Harrington says Palmer's progress has been remarkable, but worries about him taking fights too soon, rushing the recovery. "He's chomping at the bit. I've tried to rein him in a little bit," he said.
Palmer himself speaks in realistic terms about where he stands on his recovery. He used to be able to do 1,000 pushups in 20 minutes. He's not ready for all that just yet. "I don't know who the next opponent is yet," he said Palmer. "I'm not going to jump back to the caliber of fighter that I fought before this happened. I'm starting all over again."
•••
Donnie Palmer will tell you straight up that he is not without some culpability in the events of July 20. He says he was called to his sister's apartment – a third-floor flat in a grim-looking three-decker on Park Street near the corner of Adams Street that he used to live in, too, just a block away from the boxing club – because she had been assaulted by a man whom she knew.
Palmer at the crime scene on Park Street: "I felt like I was losing my life. I was bleeding like crazy." Photo by Bill Forry"I wasn't completely innocent," he conceded. "A guy hit my sister. I was over my sister's house and he was there. I'm not going to delegate. I knocked him out, threw him in back of his girlfriend's car, and told him to get the [deleted] out of there."
Palmer said that his assailant – whom he didn't know before that day and hasn't encountered since – came back to settle the score about 20 minutes later. Asked if he regretted anything that day, Palmer pauses and repeats the question.
"Is there anything I would have done differently? Probably would have went home right after I knocked him out, honestly. Left the scene. I know some people will say I shouldn't have gotten involved, but there was no delegating that situation, you know?"
Two days after the incident, Boston Police arrested Rondall Jones inside a Fowler Street apartment and charged him with the shooting. Jones was in a Suffolk Superior courtroom on Monday for a pre-trial hearing. His attorney, Michael Doolin, said that his client is innocent, and "looks forward to trying this case in front of a jury of his peers at Superior Court."
Palmer said he doesn't know much about where the case stands, but is not too focused on it, either. "They don't call me," he said, referring to prosecutors. "I went in front of the grand jury a few months back and he goes to court every month or so for hearings.
"I'm worried about this fight, that's my focus. It adds fuel to the fire, though. I'm like, 'I'm still out there fighting, [deleted]. I want to go out today and box."
Danny Kelly, who owns the Dorchester Boxing Club, doesn't doubt Palmer's resolve. "He's a miracle, I think. It's a testimony to the people who took care of him, too. The leg is still a bit weak, but I think [the shooting] changed his old attitude," said Kelly. "He's more interested and motivated than ever – and he understands the gift that life is. He has the potential to win the world title. He's competitive with all of the guys around here."
"My immediate goal is to keep the knockout streak rolling," said Palmer, who is on the preliminary card for a fight planned at Club Royale on Tremont Street in Boston on Jan. 24. "Then I want to win all the heavyweight titles and bring them all back to America. BWC, IBF. I want all of them."
On a visit to the scene of the shooting this week with the Reporter, Palmer said he thinks about the incident often. He has always been hungry. Now, his brush with death has definitely fueled a sense of urgency.
"I pass by there all the time on the way to the gym and look at the scene. I always think about, you know, like, 'Damn, I almost lost my life.' I felt like I was losing my life. I was bleeding like crazy. I was like, 'Damn, man, if I get another chance I'm [going to] try and be a better person. You know? A better Donnie."