By Andy Metzger, State House News Service
January 6, 2014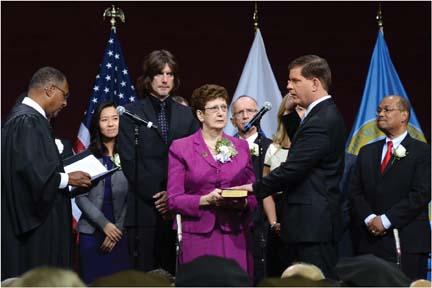 Boston Mayor Marty Walsh highlighted violence prevention in his first mayoral address at a packed Conte Forum on Monday morning.
"No parent should worry that a bullet will stop a daughter or son from coming home. No woman should be scared on our streets. No senior should be afraid in their home. And no child should be forced to live with trauma and the indelible scars of violence," Walsh told the crowd at the Boston College hockey and basketball arena.
Walsh said the city would "redouble" its efforts to improve safety and said, "Imagine if these kids, these parents had people to help them in times of trauma. Health care professionals, community members serving as volunteers, answering the call whenever a life - and with it, a family and a neighborhood - is torn by violent crime."
At 11:07 a.m. Walsh completed the oath of office and officially took over the mayoralty from Tom Menino, who held the office since the summer of 1993 when his position as City Council president made him the acting mayor when Ray Flynn was named U.S. ambassador to the Vatican.
The child of Irish immigrants, Walsh himself was grazed by a stray bullet in 1990, and he has battled cancer as a child and alcoholism as a young adult.
On the campaign trail, the issue of violence took a backseat to other concerns, such as labor negotiations, redevelopment policy and education - the focal point of Walsh's challenger in November, John Connolly.
"It's about the fundamental difference between how he views the office and how Menino did it," Walsh advisor Michael Goldman told the News Service.
Walsh announced that on Tuesday he will launch a nationwide search for the next superintendent of Boston Public Schools, and said he would work to commission an audit of the school department.
"Education spending is the biggest piece of our city budget. So we start with this principle: Every dollar we spend on education must be put to best and most effective use," Walsh said.
The next superintendent, Walsh said, should share his belief in high quality career and technical training and dual-language programs, among other priorities.
The former head of the Boston Building Trades construction union, Walsh praised the partnership between the Madison Park High School, Roxbury Community College and the Building Trades.
Goldman said the size of city government would grow smaller with "a lot fewer department heads, a lot of consolidation," some of which were announced in the speech and others of which will be unveiled over the course of the week.
Walsh said he would streamline the "maze of rules and regulations" in the permitting and licensure process, and overhaul the Boston Redevelopment Authority, a powerful quasi-public agency that controls development.
"I am committed to restructuring the Boston Redevelopment Authority, and to bring together a smart, rational and effective way all the parts of city government dealing with job creation and economic development," Walsh said.
The recent chairman of the House Ethics Committee, Walsh said he would create a city ethics committee and "more disclosure" from city elected officials and "senior level employees."
Walsh also said in February, the Boston Housing Authority will study the needs of the elderly and disabled, and create an Alzheimer's Early Detection Alliance to protect against a disease that he said affected his grandmother.
Walsh is the 54th mayor of Boston, according to City Clerk Maureen Feeney.
Goldman said before the ceremony that family from every single 20th-century mayor would be in attendance, and the celebration at Boston College's Conte Forum would be the second biggest inaugural in history, after James Michael Curley's 1919 swearing-in, which was held outdoors.
The event drew his former rival - Connolly, who sat up front - as well as both U.S. senators, Congressmen Michael Capuano and Stephen Lynch, and Congresswoman Katherine Clark, as well as House Speaker Robert DeLeo and Senate President Therese Murray, along with Walsh's former State House colleagues.
Loud cheers followed the swearing-in, administered by Supreme Judicial Court Chief Justice Roderick Ireland.
"I think he'll be an asset to the city," said Rep. Steven Howitt, a Seekonk Republican and one of a handful of minority party members - including Reps. Viriato deMacedo, Angelo D'Emilia and Don Wong - who attended the inauguration. Howitt said he hoped Walsh would win and noted, "There were really no Republican frontrunners."
U.S. Sen. Elizabeth Warren and Gov. Deval Patrick congratulated the incoming mayor, and Patrick offered some wisdom he picked up after winning the governorship in 2006.
"You won't remember precisely the moment when your jokes became so funny, when you became so photogenic, and when you were expected to have an opinion on absolutely everything," Patrick said, to laughs. "My advice to you, if I may, is to hold onto why you wanted this job in the first place and to whom it matters most."
After his electoral victory, Walsh held a series of policy meetings with the public and began naming senior staff of his incoming administration the weekend before his inauguration.
Former Mayor Ray Flynn attended the inauguration, though Menino did not, telling reporters in late December, "It's Marty Walsh's day. It's not Tom Menino's day."
Goldman said Walsh is not disappointed Menino was not in attendance, and said the two had a "terrific conversation" Sunday night.
Walsh praised Menino in his speech, saying, "His legacy is already legend, and his vision is all around us. I am grateful for his support, and his advice as I go forward."
Walsh took office amid a bout of unusual weather, as the cold and snow of last week gave way to relatively warm mist and drizzle with another cold snap in the forecast.
A Dorchester-state-representative-turned-mayor-of-636,000, Walsh has discussed the change in thinking that will accompany his ascendancy to the fifth floor of City Hall.
"Being a rep . . . you don't have to worry about making sure the snow is being plowed, not worried about watching the weather five, six, seven days out," Walsh told the Boston Globe.
Walsh will be eager to take hold of the workings of government and review decisions made by his predecessor, Goldman said.
"When you're the new mayor, you want to know where everything is," said Goldman. He said, "Everything gets a fresh look."
Before the doors opened, organizers kept under wraps the identity of a special musical guest, cellist Yo Yo Ma, a Massachusetts resident who performed at President Barack Obama's 2009 inauguration, and played a traditional Irish melody along with pieces by George Crumb and Johann Sebastian Bach.
During the campaign, Walsh received the backing of the rollicking Dropkick Murphy's, and the advice of indie music promoter Joyce Linehan.
Hardly a seat was empty in the Conte Forum, on the edge of the city and far from the Savin Hill neighborhood where Walsh calls home.
Goldman said if TD Garden had been available, Walsh would have had the inauguration there rather than his alma mater.
"The symbol is it was big enough to hold a crowd," Goldman said.
From the dais, Walsh highlighted another forum, the Strand Theatre in Uphams Corner, where he said he began and ended his mayoral campaign. He said the theatre, which is near its 100th birthday, should be a new gathering spot for the city.
Suffolk County Clerk of the Civil Court Michael Joseph Donovan paid homage to Walsh's late father and voiced some neighborhood fealty.
"We guys from Savin Hill, we all stick together," Donovan said.
Walsh gave shout outs to the hills of Boston beyond Beacon Hill, where he held office for 16 years, and Savin Hill.
"It's Bunker Hill and Bellevue Hill and Fort Hill. It's Pope's Hill and Jones Hill and Telegraph Hill. It's Copp's Hill, Mission Hill and Eagle Hill," Walsh said. "So when I said we are sworn in together, it means we're in this together."