By Eliza Dewey, Special to the Reporter
October 16, 2014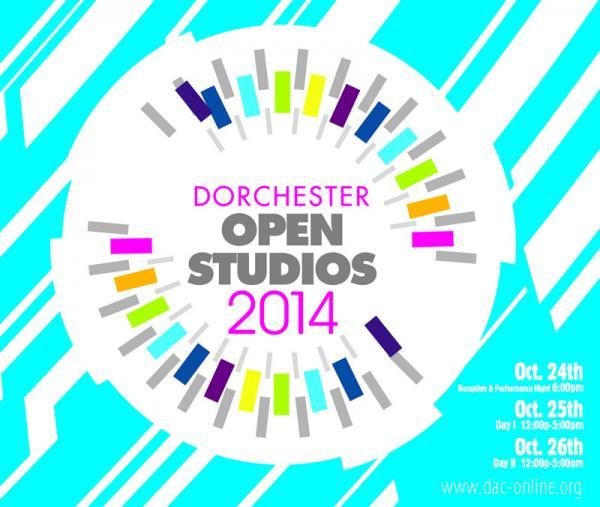 Art aficionados and fans of "buy local" get ready – Dorchester Open Studios is back! The free annual community art festival, which takes place October 24-26 at a variety of public venues and artists' homes, provides local artists with an opportunity to showcase their work and sell their products. The featured artists come from a wide variety of disciplines, including music, dance, photography, painting, ceramics, glass working, jewelry making, sculpture, videography and more.
The three-day event kicks off with an evening reception and performance on Friday, October 24 at the Black Box Theatre at Codman Academy. The reception begins at 6 p.m., followed by a show at 7:15 featuring local performing artists. The event is free.
On October 25 and 26, art venues will be open from noon to 5 p.m. There will be a free shuttle service providing transportation to all of the sites running about once every twenty minutes. A full schedule of events and a map indicating shuttle pick-up spots, venue locations and sponsor locations is printed in today's Dorchester Reporter.
This is the 13th anniversary for the three-day event, which is organized by Dorchester Arts Collective (DAC), a membership organization that has been working in Dorchester since 2002 to facilitate and support the arts. Open Studios was DAC's inaugural project when the organization was first launched by Dorchester residents Rosanne Foley and Joyce Linehan and a team of about twenty local artists and supporters. The event is made possible by the support of many local partners, such as First Parish Church, which is the festival's largest showcase site, and local businesses that pitch in to fund the printing of the event guide.
J. Gustavo, the president of the DAC Board, emphasized the timeliness of the event.
"Our mission of helping to cultivate Dorchester's art scene is now more relevant than ever before as the neighborhood finds itself undergoing a period of transition and cultural rebranding," said Gustavo. "There has been a resurgence in discovering and nurturing art through community-led initiatives and DAC is proud to play a part of this cultural revolution."
Dorchester Open Studios is still accepting submissions from local artists who would like to participate. The registration fee is $50 until October 10, after which it will be $65. The fee goes toward the various costs associated with hosting the event, including promotion. Artists do no need to submit any portfolio of their work – they simply need to register online at dac-online.org under the "Open Studios 2014" tab.
Dorchester Open Studios is one of several neighborhood art festivals that take place across the city, Roxbury Open Studios was last weekend, and Open Studio events in South Boston and Roslindale are coming up in November. The respective events are separate entities, but the organizers of each coordinate dates so that they do not conflict with each other.
Dorchester Open Studios also retains its own distinctive flavor, says DAC Board Member Jennifer Johnson.
"One of the things that Dorchester Open Studios has done is to really expand on the concept, so it's not just visual artists," said Johnson. "We also have craftspeople… We have Abbie Wanamaker [who] creates children's books. We have a lot of folks who come in who create jewelry. We have one woman who creates purses out of recycled plastic bags."
This year the festival also has several new community partners, including Vietnamese American Initiative for Development (Viet-AID), a community center based in Fields Corner. Their center on Charles Street is serving as a showcase location, expanding the event's outreach and enabling more artists to participate. "Not only does art bring people together, it helps to heal and add meaning to life," says VietAID Executive Director Nam Pham. "Our Center is a home for all of Dorchester's diverse peoples and we hope that by participating in Dorchester Open Studios, we help to make Fields Corner become a cultural destination by choice."
While Open Studios will retain its traditional studio structure to showcase the neighborhood's visual artists, this year will see more energy shifted to the performing arts featured at the Friday night reception to "re-excite peoples' interest in Open Studios in a very different way," said Gustavo.
Audience members can expect to see a wide variety of art forms, including dance, music, spoken word, hip hop and theatre. The Friday show will feature returning favorites, such as folk singer Bethel Steele, the roots reggae group Jah-N-I Roots Band, Boston Tap Company, and the Urban Youth Project dance company as well as new-comers to the Open Studio stage, such as local conscious hip-hop group Foundation Movement, soul R&B singer/songwriter Aisling Peartree, student performers from the Boys & Girls Club and Codman Academy and alternative singer Brian King from the band What Time Is It, Mr. Fox?
The performance night on Friday will also feature food donated by local restaurants Savin Hill Bar and Kitchen, Sweet Life Café and Bakery, A Sweet Place candy store, and Flat Black Coffee Company as well as SistAct3, an American-Nigerian fusion catering company that is planning to open a site in Dorchester soon. The founder of SistAct3, Felicia Okonkwo, participated in a 12-week artist entrepreneurship class at Dorchester Arts Collaborative this summer and won the seed money for her start-up based on her business pitch at the end of the class. Marquite Niles, the organizer of Friday's kickoff event, is still welcoming volunteers – those who are interested should contact her at 617-446-3367.
Whether you want to see some fresh local live acts, purchase some unique gifts or home décor, sample some of the best cooking in town, or simply support local artists who are dedicated to their craft, Dorchester Open Studios has something for you.